War of the Gods

by Poul Anderson

Reviewed by David Maclaine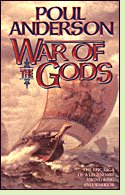 In War of the Gods Poul Anderson skillfully reshapes one of the tales that survived the muddle of early Scandinavian history in the form of Heroic-Age Saga. The genre typically pits a powerful human figure against adversaries that include mythic beasts and supernatural beings. This story, taken from the Danish history of Saxo Grammaticus, begins with an unusually elaborate retelling of some foundations of Norse mythology before moving on to the tale of a prince called Hadding who grows up as a foster child in a household of giants and must one day leave his strange home to reclaim a lost kingdom. This sequence means the tale moves steadily away from the supernatural and toward a mostly human struggle of warring realms and personalities. It provides a well-shaped vision of what the warriors of the Viking Age would have believed about their predecessors in the centuries before they began to sail out from their northern homes to ravage much of Europe.
Hadding is a sympathetic hero, whose battles do not always go as planned, and whose loves do not always end idyllically. If he seems a bit more credulous than most readers will be about the uncanny one-eyed man who from time to time appears to guide his fate, his imperfect awareness is no authorial oversight, but instead part of a deep-laid concept that emerges only at the very end, when we understand at last the reason for the novel's title. The reader's sympathy is drawn to include more than just the humans caught in destiny's web, extending to well-meaning but imperfect gods, likeable giants, and even a strange sea creature. War of the Gods offers a well-imagined version of the mythic underpinnings of Nordic culture, and is a useful introduction to the mental world of the Viking Age.  (1997; 304 pages)
More about War of the Gods at Powell's Books
or
Amazon.com
War of the Gods
appears on the list of
The 45 Best Historical Novels Set in the Viking Age
Other novels based on Scandinavian sagas:
The Soul Thief
by Cecelia Holland (2002), about a young Irishman's experiences in Viking-era York as he searches for his sister, abducted by raiders. See
review
or
more info at Amazon.com
.
Styrbiorn the Strong
by Eric R. Eddison (1926), about a tragic figure from Norse sagas, Styrbiorn Olafsson, an heir to the Swedish throne whose hot temper led to his being denied the kingship.
More info
Wolfsangel
by M.D. Lachlan (2010), historical fantasy about two brothers kidnapped as infants and raised by Vikings; based on a Norse myth.
More info
Nonfiction and sagas about Vikings:
The Danish History
by Saxo Grammaticus (circa 1204).
More info
From Myth to Fiction: The Saga of Hadingus
, edited by Peter Sawyer (1997).
More info
Norse Mythology: A Guide to Gods, Heroes, Rituals and Beliefs
by John Lindow (2002),
More info
Online:
Hadingus
(Hadding) at Wikipedia
Back to Medieval Scandinavia and the Vikings
Back to Directory of Book Reviews