Lady of the Butterflies
by Fiona Mountain
Reviewed by Margaret Donsbach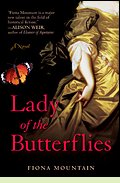 Lady of the Butterflies spins a historical romance around the life of Eleanor Glanville, for whom the now-rare Glanville fritillary was named. The daughter of a staunch Puritan who fought in Cromwell's army, she inherited his estate in marshy Somerset in 1666 at age twelve.
Growing up, Eleanor is isolated by her widowed father's Puritan convictions, now badly out of style. Sweets, Christmas celebrations and colorful clothes, pleasures enjoyed by the other local children, are forbidden to her. But her father educates her in Latin and science, sophisticated treats to which most girls have no access. And he introduces her to butterflies. "They are a token, Eleanor, a promise. A caterpillar begins as a greedy worm, which surely represents the baseness of our life on earth. Then they are entombed, just as we are entombed in the grave. They emerge on glorious wings, just as the bodies of the dead will rise at the sound of the last trumpet on the final Judgment Day."
The life cycle of butterflies is poorly understood, superstitions rife: might they be the souls of the dead? Many think a woman who collects and studies them extremely odd, possibly mad. So although Eleanor's passion for them is her salvation amid life's disappointments, it may also be her undoing.
Lady of the Butterflies lingers over the inexperienced Eleanor's head-over-heels attraction to her first husband, her infatuation with his best friend, and her friendship with London apothecary and naturalist James Petiver. The characters are complex enough to be interesting. Heavy foreshadowing makes the romance layer of the plot rather predictable; some readers may grow impatient with the many pages lavished on it. Sex scenes are explicit but tasteful. Readers who enjoy this style of romance and have a soft spot for butterflies are likely to find this novel irresistibly charming. Those who merely tolerate romance may find it worthwhile for the butterfly layer of the plot alone, a delight as rare as the Glanville fritillary. (2009; 533 pages, including an Author's Note discussing the history behind the novel and an Acknowledgments with an extensive bibliography)
More about Lady of the Butterflies at Powell's Books or Amazon.com

Other novels featuring heroines with Puritan upbringings:
Love's Pursuit by Siri Mitchell (2009), about a Puritan woman whose ideas about life and God are challenged when a wealthy bachelor begins to court her. More info
Circle of Pearls by Rosalind Laker (1990), about a Puritan woman who safeguards Queen Elizabeth I's last remaining gown. More info
The Winthrop Woman by Anya Seton (1958), about a niece of John Winthrop, a leader of the Puritan immigration to the American Colonies. More info

Nonfiction about Eleanor Glanville and the history of entomology:
The Making of a Manor: The Story of Tickenham Court by Denys Forrest (1975), about Eleanor's home in Somerset and the people who lived there. More info
The Aurelian Legacy: British Butterflies and Their Collectors by Michael A. Salmon (2000). More info
The Spirit of Butterflies: Myth, Magic, and Art by Maraleen Manos-Jones (2000). More info

Online:
Eleanor Glanville at Wikipedia



Back to Novels of the Seventeenth Century

Back to Directory of Book Reviews