Sword Song

by Bernard Cornwell

Reviewed by David Maclaine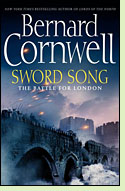 The fourth novel in the "Saxon Tales" series is titled Sword Song and subtitled The Battle for London. There is indeed much sword-play in the novel, and a fierce battle for what is here spelled "Lundene," but an equally apt title might have been River of Blood. The action in this novel ranges up and down the great river "Temes." First comes the bloody ambush of a Danish warship, and then a desperate pre-dawn passage through the plunging torrent in a bridge-gap to achieve an unexpected river entry to assault a city. More bloody fights on the water lead to the climax in an epic struggle of men and ships whose outcome will determine the fate of a royal princess. The fights are all portrayed with Cornwell's usual verve; fans of blood-drenched hand-to-hand action will find ample satisfaction. But while the death toll has mounted steadily in the course of the "Saxon Tales," so too has the number of characters whose personalities add life and sprinkle cheer across these otherwise dire tales.
The band of warriors includes Steapa, a huge and deadly Saxon, somewhat dim but firm in any fight; the lively Irishman Finan, a lightning-swift dealer of death; the cheerful, hard-fighting Welsh priest, Father Pyrlig; and the narrator himself, Uhtred of Bebbanburg, who again dispatches scores of foes to Valhalla with his swords Wasp-Sting and Serpent-Breath. Others who step forward to play key roles in the drama include King Alfred's haplessly scheming nephew Æthelwold; his bastard son Osferth, whom Uhtred rescues from the path of priesthood; and most crucially, Alfred's daughter Æthelflaed, whose marriage to the unpleasant lord Æthelred of Mercia provides both heart-rending drama and a heartening signal that this series will continue to the crucial wars fought by the royal family's next generation. (2007, 314 pages)
More about Sword Song at Powell's Books
,
Amazon.com
or
The Book Depository
Sword Song
appears on the list of
The 45 Best Historical Novels Set in the Viking Age
Other novels about warfare in London:
Warrior Queen: The Story of Boudica, Celtic Queen
by Alan Gold (2005), about Boudica and her rebellion against Rome in 61 A.D., including her attack on Roman London.
More info
Company of Rebels
by Elizabeth Lord (2005), about a fourteenth-century blacksmith who joins the English Peasants' Rebellion and leads a group of villagers in a march against London.
More info
Blackout
by Connie Willis (2010), about the Nazi bombing attack on London known as "the Blitz."
More info
Nonfiction about Alfred the Great:
Alfred the Great: The Man who made England
by Justin Pollard.
More info
Alfred the Great: War, Culture and Kingship in Anglo-Saxon England
by Richard Abels.
More info
Online:
Viking and Danish London
at the Museum of London website
Back to Directory of Book Reviews