Styrbiorn the Strong

by E.R. Eddison

Reviewed by David Maclaine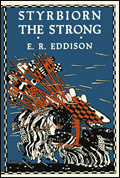 Styrbiorn the Strong is a novel of rare beauty and power, elegant in style and full of tragic grandeur. The tale itself is simple, with the logic and inevitability of Greek tragedy. It is the story of a proud and precocious young prince, a boy muscular enough to wrestle with his pet musk ox in his spare time, who grows impatient for the share of the Swedish throne promised by his uncle when he reaches age sixteen. He heads to sea while he waits, and in three years becomes a renowned and feared Viking leader, a threat to neighboring kings. His hopes for a peaceful homecoming are complicated by Sigrid, a youthful friend who becomes his uncle Eric's queen. Three times Styrbiorn returns to Sweden; his final homecoming brings bloody war and the climax of a famous battle.
Author E.R. Eddison is best known for his fantasy novel The Worm Ouroboros. I had tried the first few pages of that work a long time ago, when it appeared in paperback with cover art resembling that on the Tolkien paperbacks. I set it down again quickly, put off by a style whose unflagging use of "thee" and "thou" felt badly outdated. There's a certain amount of that in Styrbiorn the Strong, but the influence of Icelandic sagas gives the work such a hard spine that a little archaic language does no harm. Eddison's style is rich, with long, lyrical sentences that will delight those who appreciate sheer beauty of language. The tale mostly follows the traditional Norse sources, but Sigrid's role in the tragedy is the author's invention. Though richer in language than the Icelandic models, the novel mirrors their stern objectivity and refusal to take sides. The result is a work not merely of entertainment but of art. (1926; 264 pages in the recent University of Minnesota Press edition)
More about Styrbiorn the Strong at Powell's Books
or
Amazon.com
Styrbiorn the Strong
appears on the list of
The 45 Best Historical Novels Set in the Viking Age
Other novels based on Scandinavian sagas and mythology:
The Soul Thief
by Cecelia Holland (2002), about a Viking who sets out to rescue his abducted sister, purchased by a sorceress who covets her magical powers; some events in the story are based on the tales of Eric Bloodaxe from the
Heimskringla
; #1 in the Soul Thief series. See
review
or
more info at Amazon.com
Odinn's Child
by Tim Severin (2005), about a son of Leif Ericson and a Celtic mother who arrives in Greenland in 1001, is raised as a pagan, and fights against Brian Boru in the Battle of Clontarf; based on the Eyrbyggja Saga; #1 in the Viking trilogy.
More info
Wolfsangel
by M.D. Lachlan (2010), historical fantasy about two brothers kidnapped as infants and raised by Vikings; based on a Norse myth.
More info
Nonfiction about the Vikings:
The Vikings: A History
by Robert Ferguson (2009).
More info
The World of the Vikings
by Richard Hall (2007).
More info
A History of the Vikings
by Gwyn Jones (2nd edition, 1984).
More info
Online:
Vikings
at the BBC History website
Back to Novels of Medieval Scandinavia and the Vikings
Back to Directory of Book Reviews