The Pale Horseman

by Bernard Cornwell

Reviewed by David Maclaine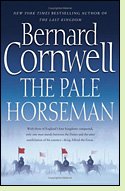 Second in the "Saxon Tales" series, The Pale Horseman begins with its hero, Uhtred of Bebbanburg, blundering his way into King Alfred's doghouse, and the big question is whether he's digging his way out or just getting into a deeper hole. Between the debts foisted on him by a marriage at the king's behest, his friendship with the king's feckless nephew, his fondness for the Danes, and a bit of casual manslaughter in dealing with a crooked steward, Uhtred has a lot on his plate. It should come as no surprise that his decision to sail off on one of the king's ships for some impromptu piracy has mixed success. Through some sharp double-dealing with the Cornish Britons, though, coupled with good luck against the Danes, he manages to win a fascinating new lover, a fair bit of treasure and the enmity of a Welsh clergyman named Asser: one takes care of his debts, but another's accusations lead to an unpromising trial by combat. That danger pales as the skies darken with smoke. The Danes have broken their treaty and launched an invasion that seems certain to finish off the kingdom of Wessex. Soon Uhtred finds himself cornered on an island in the swamp with the king and a tiny band of followers while the kingdom slips away. But Cornwell crafts a believable path for the recovery from this famous low point in the war. All soon rests on whether the king can raise the scattered levies for one desperate battle against superior numbers. The tale climaxes on the battlefield, where Cornwell once again shows his mastery.
Some of the most famous of the legends of Alfred - the burning cakes, his visit to the enemy camp disguised as a minstrel - are retold here with some welcome twists. The Pale Horseman weaves engaging fiction out of the true story of the days when the England-that-would-be very nearly died in the cradle. (2005, 368 pages)
More about The Pale Horseman at Powell's Books
,
Amazon.com
or
The Book Depository
The Pale Horseman
appears on the list of
The 45 Best Historical Novels Set in the Viking Age
Other novels about King Alfred:
The King of Athelney
by Alfred Duggan (1961; also titled
The Right Line of Cerdic
), a novel which covers most of Alfred's life. See
review
or
more info at Amazon.com
The Edge of Light
by Joan Wolf (1990), about Alfred, his wife Elswyth, and the English resistance to the Danish invasion.
More info
The Dragon and the Raven
by G.A. Henty (1886), about a young Saxon thane who joins King Alfred's army.
More info
Nonfiction about Alfred the Great:
Alfred the Great: The Man who made England
by Justin Pollard.
More info
Alfred the Great: War, Culture and Kingship in Anglo-Saxon England
by Richard Abels.
More info
Online:
Alfred the Great
at the official website of the British Monarchy
Back to Directory of Book Reviews