The Pagan Lord

by Bernard Cornwell

Reviewed by David Maclaine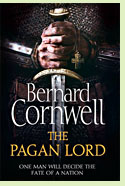 In The Pagan Lord Bernard Cornwell takes another measured step toward the completion of what appears more and more to be a vast design. During earlier volumes of his Saxon Tales, while dealing with the Danish invasions and the resistance of Alfred the Great, Cornwell made it clear that his series would continue through the wars fought by the brother-and-sister team of Edward and Aethelfled. In this seventh installment, set in an interlude of relative peace, trouble is brewing, but it is directed at the series' protagonist Uhtred of Bebbanburg. The dispossessed heir to a Northumbrian fortress, Uhtred finds that his violent tendencies have again led to exile, and he makes another attempt to regain his lost patrimony. Readers who have stuck with Cornwell this far will not be surprised that by the novel's end the pagan lord will once more battle invaders on a field where the fates of Mercia and Wessex hang in the balance. As usual, the author is at his best when he zooms in to describe the gritty details of battle when shield walls form and deadly blows of axe and sword begin to fall.
In the course of this action Cornwell introduces us to younger characters who seem destined for key roles in the future, when the battle-scarred Uhtred will be too old for the fate of England to hang on his sword-play. One is the young son of King Edward, Athelstan, whose time to shine lies decades ahead. Another is Uhtred's son and namesake, who will face his first test on the field of slaughter, and for a while even take over his father's role as love interest for the latest attractive woman to cross their paths. Between them they suggest that if the author keeps writing long enough, The Pagan Lord will one day stand somewhere in the middle of a long sequence of novels on how an England shattered by invasion emerged at last as a nation. (2013, 299 pages)
More about The Pagan Lord at Powell's Books
or
Amazon.com
See
The 45 Best Historical Novels Set in the Viking Age
Other novels about the heirs of King Alfred and their time:
The Edge on the Sword
by Rebecca Tingle (2001), a novel for ages 12 and up about Æthelflaed at age 15, when her father betroths her to Æthelred.
More info
Shieldwall
by Justin Hill (2011), about a young man who survives the Viking raids of 1016 to fight in King Ethelred's army. See
review
or
more info at Amazon.com
Nonfiction about Æthelflaed and Edward:
Aethelflaed: Royal Lady, War Lady
by Jane Wolfe (2001).
More info
A Great and Terrible King
by Marc Morris (2015).
More info
Mercia and the Making of England
by Ian W. Walker (2001).
More info
Online:
Edward the Elder, King of the Anglo-Saxons
at Anglo-Saxons.net
Back to Directory of Book Reviews