The Lords of the North

by Bernard Cornwell

Reviewed by David Maclaine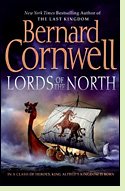 In Lords of the North, third in the "Saxon Tales" series, author Bernard Cornwell takes on the challenge of finding action for his warrior-hero Uhtred of Bebbanburg during the period of peace following the West Saxons' surprise victory against the Danes which concluded the preceding novel. As Uhtred is a Northumbrian, heir to a lordship now held by his usurping uncle in an all-but-impregnable fortress, it is natural for him to head north to deal with some unfinished business. Affairs in Northumbria are in crisis as the kingdom pursues an ill-planned revolt against the Danes, suffers a major raid by the Scots and copes with the distrust among the region's various lords. When the dust settles, Uhtred finds himself offering crucial aid to a surprising claimant to the Northumbrian throne. A dire series of events involves a betrayal, enslavement, and a new crisis in Northumbria which can be resolved only if a daunting citadel held by a particularly loathsome enemy can be captured.
Because the historical record for Northumbria in these years is sketchy indeed, Cornwell is free to spin his plot with little constraint. Given his experience in crafting action plots, it's no surprise that Lords of the North offers a splendid blend of intrigue and intense combat action. Uhtred gains a new love interest in this series, a royal princess no less. One of the satisfying features of these "Saxon Tales" is that the fascinating women in the hero's life - unlike the succession of lovers who quickly come and go in Cornwell's Sharpe series - often play key roles even after they have left Uhtred's bed; in this novel their roles are more crucial than ever. (2006, 336 pages)
More about Lords of the North at Powell's Books
,
Amazon.com
or
The Book Depository
The Lords of the North
appears on the list of
The 45 Best Historical Novels Set in the Viking Age
Other novels set in Northumbria:
Paths of Exile
by Carla Nayland (2009), about Eadwine of Deira, an exiled prince struggling to regain his kingdom. See
review
or
more info at Powell's Books
The Viking
by Edison Marshall (1951), about a slave in the house of Ragnar Lodbrok; based on a Norse saga about Ragnar and the revenge his sons took on Northumberland after his death. See
review
or
more info at Amazon.com
Queen of the Lightning
by Kathleen Herbert (1984), historical romance about a princess of Cumbria who must marry a prince of Northumbria rather than the man she loves; #1 in a trilogy.
More info
Nonfiction on the history of Northumbria:
Northumbria: The Lost Kingdom
by Paul Gething (2012).
More info
Northumbria, 500-1100
by David Rollason (2003).
More info
The Kingdom of Northumbria, A.D. 350-1100
by N.J. Higham (1993).
More info
Online:
Bamburgh
(once Bebbanburgh) at Wikipedia
Back to Directory of Book Reviews