The Empty Throne

by Bernard Cornwell

Reviewed by David Maclaine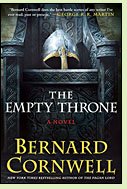 In The Empty Throne, a new narrative voice replaces that from the previous seven volumes of The Saxon Tales, the disinherited Saxon lord turned pagan Uhtred of Bebbanburg. This novel begins from the viewpoint of his son, also named Uhtred. He is in the field on an ambush mission on behalf of the leader his father has served for many a volume: Aethelfled, daughter of Alfred the Great, whose marriage to the Uhtred's cousin has bound Mercia in an alliance with Wessex. The throne of the title is the Mercian one, empty in theory for decades. Now Aethelfled's estranged husband, who has been ruling the surviving remnant of the old kingdom, is dying. Plots swirl as candidates position themselves to replace him. To achieve that aim, they must thrust aside Aethelfled. As there is no precedent for direct rule by a woman, that seems a formality. Schemes are also afoot to remove the king's eldest son Aethlestan from the line of succession.
Opposing these maneuvers are the two Uhtreds. When the narrative viewpoint shifts back to the scarred older warrior, the action bubbles to a boil. The suspense is ample, even for readers who know very well that the figure to ascend The Empty Throne will be known to history as The Lady of the Mercians, and that the threatened prince will in time be one of early England's most celebrated kings. History buffs will also be delighted when the action swirling around a siege of Ceaster (Chester) introduces another famous figure, a Viking lord with a major role to play some years down the line. This series is shaping up to be a multi-generational saga, a happy prospect indeed for Cornwell's many fans. (2014, 296 pages)
More about The Empty Throne at Powell's Books
or
Amazon.com
See
The 45 Best Historical Novels Set in the Viking Age
Other novels about the heirs of King Alfred and their time:
The Edge on the Sword
by Rebecca Tingle (2001), a novel for ages 12 and up about Æthelflaed at age 15, when her father betroths her to Æthelred.
More info
Shieldwall
by Justin Hill (2011), about a young man who survives the Viking raids of 1016 to fight in King Ethelred's army. See
review
or
more info at Amazon.com
Nonfiction about Aethelflaed and Aethelstan:
Aethelflaed: Royal Lady, War Lady
by Jane Wolfe (2001).
More info
Aethelstan, the First King of England
by Sarah Foot (2011).
More info
Mercia and the Making of England
by Ian W. Walker (2001).
More info
Online:
Aethelflaed
at Wikipedia
Back to Directory of Book Reviews