The Winter Serpent

by Maggie Davis

Reviewed by David Maclaine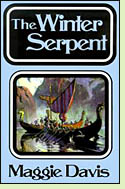 The Winter Serpent is a novel that continually defies expectation. It is the story of Doireann, an orphaned young woman whose father was a Scottish chieftain and whose mother was a noble Pict. Sold by an unfriendly relative to a band of Northmen, she must adjust to a forced marriage in an alien culture, and later becomes embroiled in the schemes of factions from both Celtic peoples, Scots and Picts, where her role in the succession makes her valuable. Her pride and force of will are the only counterforces to the desires of the men who seek to bend her to their own ends. All these elements might serve for a standard-issue romance, or for a screed against a system that allowed so little choice to women. But the novel offers neither the romantic conventions of the sadly anti-feminist decade of the 1950s during which it was written, nor the dogmatic slant one might expect had it been written a couple of decades later. Nor does the construction of the story, its pace and rhythm, follow the predictable shaping of suspense and action found in most popular fiction. It is a finely crafted novel, written as any literary work of the 1950s might be, but with its protagonist a woman of more than a millennium ago.
Author Davis provides a unique interpretation of the Norse berserker tradition, as well a portrayal of Celtic society at the close of the eighth century which feels authentic. The famous raid on Lindisfarne abbey, a thunderclap announcing the coming storm of the Scandinavian onslaught on Western Europe, is a crucial offstage event in The Winter Serpent. But while Davis sets her story during the beginning of a great clash of cultures, her chief focus is on a particular woman's struggle to shape her own fate. (1958, 300 pages)
More about The Winter Serpent at Amazon.com
The Winter Serpent
appears on the list of
The 45 Best Historical Novels Set in the Viking Age
Other novels about Celts living among Vikings:
The Soul Thief
by Cecelia Holland (2002), historical fantasy about a Viking who sets out to rescue his abducted sister, who has been purchased by a sorceress who caught a glimpse of her using magical powers; #1 in the Soul Thief series. See
review
or
more info at Amazon.com
Raven's Wind
by Victor Canning (1983), about a young Anglo-Saxon man who escapes from Viking captivity. See
review
or
more info at Amazon.com
Far After Gold
by Jen Black (2009), historical romance set in the tenth century about a Christian woman from the Hebrides who is kidnapped and sold to a pagan Viking. See
review by Carla Nayland
or
more info from Amazon.com
Nonfiction about early Scottish history:
Early Medieval Scotland: Individuals, Communities and Ideas
by David Clarke et al. (2013).
More info
Picts, Gaels and Scots
by Sally Foster (revised edition, 2004).
More info
Warlords and Holy Men: Scotland, 80-1000 A.D.
by Alfred Smyth (1989).
More info
Online:
Beserkergang
at The Viking Answer Lady
Back to Novels of the Medieval Celts
Back to Directory of Book Reviews