Viking Warrior
by Judson Roberts
Reviewed by Annis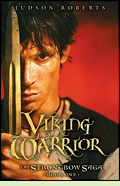 Fourteen-year-old Halfdan believes his dreams of being a Viking warrior are impossible. Slaves can't be warriors, and Halfdan is a slave - a thrall - whose mother is the slave concubine of his father, a Viking chieftain. But Halfdan's life is turned upside down when a longship brings his badly wounded father home to Denmark after a disastrous raid on England. "In one moment the Norns changed the pattern they were weaving in the fabric of my fate".
At a Viking chieftain's funeral, the chieftain's favourite concubine and animals are sacrificed so they can join him on his final journey to Valhalla, the warriors' afterworld. Halfdan's dying father begs Halfdan's mother to share his death-voyage. She trades her life for his agreement to free Halfdan and grant him the full rights of a chieftain's son.
Although Halfdan grieves for his mother, he becomes caught up in the excitement of learning to become a warrior. His half-brother Harald oversees Halfdan's training. Although not much older than Halfdan, Harald is already a respected war-leader. Halfdan shows promise as a fighter, surprising Harald with his skills as an archer and hunter. The brothers soon become inseparable companions. It seems the gods are smiling on Halfdan, but his good fortune attracts jealousy. After a treacherous attack, he sets out on a dangerous quest for vengeance which takes him far from home.
Halfdan's action-packed adventures bring the ninth-century Viking world and its warrior culture to vivid life. Viking Warrior, the first novel in the Strongbow Saga, takes us into the heart of a fascinating, complex society where the unpredictable Norse gods rule and the Weavers of Destiny shape men's fate, but a man's hard-won honour is his own. (2006; 360 pages, including a List of Characters, Glossary of Viking terminology and Historical Notes. Recommended for ages 14-17.)
More about Viking Warrior at Powell's Books or Amazon.com
Viking Warrior appears on the list of The 45 Best Historical Novels Set in the Viking Age


Other YA novels about Viking warriors:
Feasting the Wolf by Susan Price (2007). More info
Raven of the Waves by Michael Cadnum (2001). More info
Sword Song by Rosemary Sutcliff (1997). More info

Nonfiction about Vikings:
Viking Life by John A. Guy (2006), for young adults. More info
Vikings by Robert Nicholson (1997), for young adult readers. More info
Vikings by Susan Margeson (2009), for preteens. More info

Online:
Slavery and Thralldom: The Unfree in Viking Scandinavia at The Viking Answer Lady's website



Back to Young Adult Novels: Medieval Times

Back to Directory of Book Reviews