The Venetian

by Lina Ellina

Reviewed by Margaret Donsbach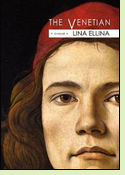 The Venetian is one of relatively few novels, at least in English, that are set in medieval Cyprus. This could make it worth reading for anyone with a special interest in the island's history. The author, a native Cypriot, sprinkles nuggets of information on the island's geography and history through a set of paired stories, one set in the present day, one in the fifteenth century.
When Lorenzo Zanetti travels from Venice on a sheepish, half-hearted search for information about a medieval ancestor who may have lived in Cyprus, he begins falling for his pretty tour guide. Meanwhile, in 1467 his apparent ancestor, Marin Zanetti, travels from Venice to Cyprus to learn his family's sugar production business and falls for a beautiful but lower class widow.
The tour guide's role in the present-day story makes it natural for her dialogue to include chunks of historical fact: "Life in Cyprus has not been easy, you know. Its geographical position has been both a blessing and a curse." In both present and past, the narrative mostly skims tamely through the characters' day-to-day activities, not so much evoking their emotions as informing readers about them. Both stories use the same voice, which gives the medieval story an anachronistic and sometimes unintentionally humorous quality, as when a young woman entering a room "uploaded a bucket filled with water," or, as the love story heats up, the same woman finds it impossible "to struggle against his pheromones."
Readers looking for a deeply absorbing historical tale about characters central to Cypriot history will not find that here, but the story flows steadily along in its mild way. In the process, it offers a series of bite-sized lessons about fifteenth-century Cyprus and a sense of the island's natural beauty both then and now. (2012, 256 pages)
More about The Venetian at Powell's Books
or
Amazon.com
Other historical novels set in Cyprus:
Race of Scorpions
by Dorothy Dunnett (1989), #3 in the House of Niccolo series about a charismatic and adventurous young Flemish merchant; this time, his travels take him to Cyprus. See
review
or
more info at Powell's Books
The King's Witch
by Cecelia Holland (2011), the early part of this novel about a young woman who accompanies Richard the Lionheart to the Crusades takes place in Cyprus. See
review
or
more info at Powell's Books
The Red Sea
by William Napier (2012), , about two young Englishmen caught up in the Ottoman attack on Cyprus in 1571; #2 in the Clash of Empires series.
More info
Nonfiction about the history of Cyprus:
Cyprus: An Island Culture. Society and Social Relations from the Bronze Age to the Venetian Period
edited by Artemis Georgiou (2012).
More info
A Traveller's History of Cyprus
by Tim Boatswain (2005).
More info
Cyprus: From Earliest Time to the Present Day
by Franz George Maier (1964 in the original German, English translation 1968).
More info
Online:
Sugar Production in Medieval Cyprus
at artist Fergus Murray's website
Back to Medieval: 14th and 15th Centuries
Back to Directory of Book Reviews