The Typewriter Girl

by Alison Atlee

Reviewed by Margaret Donsbach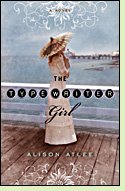 Set in a fictional English resort in the 1880s, The Typewriter Girl is a love story for grownups who have been around the block a time or two and want to read about characters with intelligence, heart and some well-earned prickliness who don't fit the cookie-cutter mold of the romance genre. As the novel opens, Betsey Dobson, a typist for a London insurance firm, is about to burn her bridges behind her. She has been offered a job with a seaside resort in Idensea and has been told to bring along a character reference, something that will not be forthcoming from her employer. A "ruined" woman, she knows marriage is not in her future; the latest disaster is the exposure of her affair with one of the insurance firm's male clerks, which she anticipates will result in her expulsion. Nervous but determined, she uses a company typewriter to forge a reference.
It's no spoiler to reveal that Betsey lands the resort job. The story is filled with so many challenges that her fate remains in doubt at every turn. She arrives in Idensea worse than penniless. The resort's aristocratic owner has only reluctantly agreed to a trial run of the project she is hired for, and he finds the notion of a female staff member distasteful. The clerk from her old firm, a crude and selfish man whose only asset from Betsey's perspective was the typewriter he owned, wants her back. The resort's Welsh construction manager, who impulsively recognized her potential and whose tart, humor-laden kindness makes him remarkable among men, plans to marry another woman. Many other obstacles, large and small, will daunt and trouble Betsey and keep the novel's ending uncertain. But what makes The Typewriter Girl especially absorbing are its characters, as full of flaws and graces and unexpected depths as real people. Because of them, the novel is far more suspenseful than the typical "romance," and far more moving. (2013, 367 pages, plus a Historical Note and a guide for book clubs)
More about The Typewriter Girl at Powell's Books
or
Amazon.com
Other historical novels set in resort towns:
Remarkable Creatures
by Tracy Chevalier (2009), about Elizabeth Philpot and Mary Anning, and their shared passion for fossil-hunting in the Regency-era resort town of Lyme Regis, England. See
review
or
more info at Powell's Books
An Accomplished Woman
by Jude Morgan (2007), a stylish Georgian-era romance about a thirty-year-old single woman who accompanies a younger woman to the resort town of Bath. See
review
or
more info at Powell's Books
The Cypress House
by Michael Koryta (2011), about a man with an uncanny ability to sense approaching disaster who persuades a friend to get off the train they are riding, but then can't persuade him to abandon a woman in a Florida resort town headed for catastrophe.
More info
Nonfiction about the history of resorts in England:
England's Seaside Resorts
by Allan Brodie and Gary Winter (2007).
More info
The English Seaside in Victorian and Edwardian Times
by John Hannavy (2003).
More info
Georgette Heyer's Regency World
by Jennifer Kloester (2005), includes a chapter on "The Fashionable Resorts."
More info
Online:
Scenic Railway Roller Coaster
at Wikipedia, about the scenic railway at the seaside resort at Great Yarmouth, England.
Back to Historical Novels of Nineteenth-Century Europe
Back to Directory of Book Reviews