Remarkable Creatures
by Tracy Chevalier
Reviewed by Annis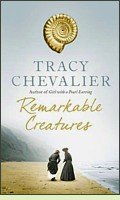 Set in Regency England, Remarkable Creatures is the story of two awkward, intelligent women, narrated in their alternating voices. Elizabeth Philpot and Mary Anning share a deep bond that transcends the barriers of age and social class: their passion for fossil-hunting and scientific enquiry.
When Elizabeth's brother, comfortably middle-class London solicitor John Philpot announces his decision to marry two years after his father's death, his three dependent maiden sisters are apprehensive, and rightly so. They are swiftly banished to genteel, parsimonious exile in the small coastal resort town of Lyme Regis, far from their city friends and cultural pursuits. Elizabeth's discovery of an ammonite fossil captures her imagination and she finds consolation in an "unladylike" new occupation: fossil collecting. Her interest leads her to Mary Anning, a young working-class girl with an uncanny eye for spotting the fossils her family sells to tourists as curiosities. Elizabeth and Mary become a familiar sight in Lyme Regis, an inseparable pair of female oddities haunting the seashore.
Tensions arise as Mary reaches maturity and discovers a fossilised "monster", later labelled an ichthyosaur. "Straightaway I saw the teeth, just below eye level", she says. "They weren't in even rows, but all a jumble - it give me a lightning jolt to see that snout". Her find brings learned men of the day hotfoot to Lyme Regis in search of Mary and more such creatures. Controversy accompanies their excitement, as the unfolding evidence of evolution and extinction challenges the accepted view of Man's place in God's cosmos.
Remarkable Creatures sympathetically evokes life in provincial Lyme Regis for two unlikely friends. Both considered unmarriageable, Elizabeth and Mary live at the margins of a society which values a woman only by her husband's worth. Spinsters find support in each other, and the enduring image of this novel remains that of Elizabeth and Mary walking the beach together as they hunt for fossils, "each in her own world, knowing the other is just at her back". (2009, U.S. publication date January 13, 2010; 352 pages, including an author's postscript and bibliography)
More about Remarkable Creatures at Powell's Books or Amazon.com

Other novels set in nineteenth-century Lyme Regis:
Persuasion by Jane Austen (1818), about a young woman who has been persuaded to break her engagement to the naval officer she loves, because of his lack of money. More info
The French Lieutenant's Woman by John Fowles (1969), a literary novel about a wealthy young man and his powerful attraction to a disgraced woman; written in an experimental style in which the author's voice intervenes to comment on the story and the writing process, and offers three different endings. More info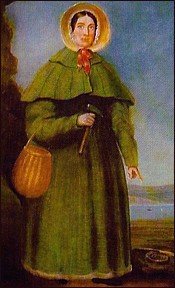 Nonfiction about Mary Anning and early dinosaur fossil discoveries:
The Fossil Hunter: Dinosaurs, Evolution and the Woman Whose Discoveries Changed the World by Shelley Emling (2009). More info
Jurassic Mary: Mary Anning and the Primeval Monsters by Patricia Pierce (2006). More info
The Dragon Seekers: How an Extraordinary Circle of Fossilists Discovered the Dinosaurs and Paved the Way for Darwin by Christopher McGowan (2002). More info

Online:
"Mary Anning (1799-1847)" at the University of California Museum of Paleontology website
Strange Science, a website devoted to the history of paleontology



Back to Novels of Nineteenth Century Europe

Back to Directory of Book Reviews