The Road to Vengeance

by Judson Roberts

Reviewed by David Maclaine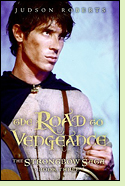 In The Road to Vengeance, third in the Strongbow Saga, its teenaged Viking hero Halfdan earns his nickname of Strongbow. Although his skill with the longbow helps turn the tide of a fiercely fought battle, Halfdan faces challenges of a very different sort when dealing with the hostage he captured in the previous novel, a novice named Genevieve. The daughter of the Frankish Count Robert the Strong, she is destined for the convent. The affection that slowly grows between Halfdan and Genevieve is bittersweet because of the obstacles preventing a future between them, while Halfdan's chosen profession and vow of vengeance leads him to battle after battle. Much to his surprise, Halfdan, a slave less that a year before, finds himself recommending a daring plan to revive the Vikings' stalled campaign with a daring attack on Paris.
As in the previous novels The Road to Vengeance offers skillfully crafted action and a convincing recreation of the era when Danish Vikings first became a serious threat to the great kingdoms of Christendom. Although Halfdan finally gets the chance to prove he can measure up as a warrior without his mighty bow, the Strongbow Saga is aptly named. It's a welcome addition to the best of the tales that make archers into heroes: the Robin Hood adventures, Costain's The Black Rose, and Bernard Cornwell's Grail Quest Series and Agincourt. In this book Halfdan takes some important steps on his long road to vengeance, but he is still far from the end. Readers can look forward to following his further journeys across the land and seascapes of ninth-century Europe. (2008, 352 pages.  Recommended for ages 14 and up.)
More about The Road to Vengeance at Powell's Books
or
Amazon.com
The Road to Vengeance
appears on the list of
The 45 Best Historical Novels Set in the Viking Age
Other novels for teens and young readers about Vikings:
Viking Warrior
by Judson Roberts (2006), #1 in the Strongbow Saga. See
review
or
more info at Powell's Books
Raven of the Waves
by Michael Cadnum (2001), about a seventeen-year-old Viking on his first raiding mission and his encounter with an Anglo-Saxon captive.
More info
Feasting the Wolf
by Susan Price (2007), about a young Viking who leaves his farm with a friend to join a group of raiders; recommended for ages 10-14.
More info
Nonfiction about Vikings:
Viking Life
by John A. Guy (2006), for young adults.
More info
Vikings
by Kathryn Hinds (1994), for young adults.
More info
Vikings
by Susan Margeson (2009), for preteens.
More info
Online:
Vikings
at History.com
Back to Directory of Book Reviews