Relief
by L.E. Butler
Reviewed by Margaret Donsbach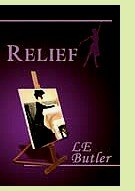 The narrator of Relief has not fully recovered from a nervous collapse after the shocking death of her husband when she impulsively uses her modest inheritance to travel to Venice. Katie has studied painting at the Museum School in Boston and once had a painting shown, so her idea of escaping to Venice to paint is not altogether foolhardy. Still, in 1912, it's unusual for a woman to uproot herself and travel alone to a strange country, and Venice is not without its perils.
The city teems with other foreigners: wealthy tourists immersing themselves in culture, artistic refugees scraping a living from the tourists, gallery owners exploiting both. Katie, who learned to take "drops" and "powders" in the hospital to sleep or calm herself, attends parties brimming with recreational drugs and alcohol in order to promote her work. Amid the extremes of poverty and wealth, beauty and decadence, she encounters Rusala, a dancer eager to moonlight as an artist's model. The two embark on a passionate affair.
Katie's eye, ever-sensitive to color, mood and texture, saturates the prose. "I ... spent the entire afternoon mixing paints to get the color of Rusala's skin. Everything I tried looked dull and artificial on the cloth. Her skin was the color of brandied sugar, with an amber glow in the sunlight. Yet there was a luminescence to it, tints of violet and pallid blue. Her skin needed the paints of the Renaissance, with their silver dust and crushed jewels and poisonous minerals." Even explicitly sexual passages are, above all, elegantly crafted and laden with meaning as the lovers struggle for consolation and for survival, both financial and emotional.
Relief is about the convoluted terrain of the heart, where infatuation shades into love, love shades into craving, and the false solace of suppressing one's feelings ends by throwing them into greater relief. (2008; 166 pages)
More about Relief at Powell's Books

Other novels about art and love:
The Painted Kiss by Elizabeth Hickey (2005), about a love affair between the Viennese artist Gustav Klimt and one of his students. More info
Moulin Rouge by Pierre La Mure (1950), about French artist Henri de Toulouse Lautrec. More info
The World Before Her by Deborah Weisgall (2008), about novelist Marian Evans (who wrote under the pen name George Eliot) and a woman sculptor, both honeymooning in Venice in different centuries. More info
See also: Artists: Part II, the Eighteenth and Nineteenth Centuries

Nonfiction about Venetian art world of the nineteenth and early twentieth centuries:
Venice: The Artist's Vision by Julian Halsby (2006). More info
Paradise of Cities: Venice in the Nineteenth Century by John Julius Norwich (2003). More info



Back to Historical Novels: 20th Century Prewar Europe

Back to Directory of Book Reviews