Historical Novels about Artists


Part II:
Novels about Artists of the Eighteenth and Nineteenth Centuries


by Margaret Donsbach
Back to Artists, Part I

A few European artists of the eighteenth century foreshadowed the dramatic changes of the nineteenth century art world by breaking with the formal schools of painting which strove for physically realistic precision. A sense of energy, even disorder, leaped from their canvases to challenge the viewer emotionally. Goya was among these, especially in his paintings about war.
The nineteenth century Pre-Raphaelites wished to portray spiritual qualities they believed had been abandoned when artists adopted the formal academic styles of artists like the Renaissance painter Raphael. Impressionist painters were more interested in capturing the shimmer of light than in reproducing form. The development of photography during the nineteenth century may have helped push artists to create effects that remained impossible for the literal eye of the camera.
These creative pioneers, whose personal lives often echoed the experimental freedom of their art, make appealing subjects for fiction.



Historical Novels about Goya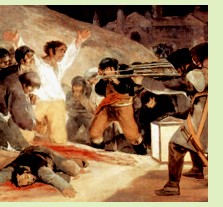 Two quite different novels about the eighteenth century Spanish painter Francisco Goya were published more than a half-century ago. Max White's 1946 novel In the Blazing Light
focused on Goya's love affair with the scandalous Maria Teresa, Duchess of Alba.
Lion Feuchtwanger's 1951 novel, published in English translation as This is the Hour, covers Goya's life during the Napoleonic Wars. Although his affair with the duchess plays an important role in the story, the novel stresses his art and his reaction to the Spanish government's repressive policies. In 1972, another novel about Goya appeared, Stephen Marlowe's well-reviewed Colossus: A Novel About Goya and a World Gone Mad
.
By 2000, it was probably time for another novel about Goya and the Duchess of Alba. Jon Manchip White, the author of a nonfiction biography of another Spanish painter, Diego Velázquez, provided it: Solo Goya: Goya and the Duchess of Alba at Sanlúcar.



The Raft of the Medusa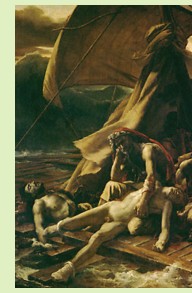 On July 17, 1816, a French ship, the Medusa, ran aground off the coast of Africa. The inexperienced captain halted the crew's efforts to free the ship by throwing heavy cargo items overboard. High status passengers escaped on the ship's few lifeboats. They tried to tow some of the other passengers on a flimsily constructed raft, but soon ran into difficulties and cut it loose. Insufficient rations and fighting and cannibalism among the raft passengers reduced their numbers. By the time they were rescued, only fifteen of the hundred-plus passengers on the raft remained alive. The news created a scandal in France.
The young French painter Théodore Géricault based his painting "The Raft of the Medusa" on accounts of the wreck. He went to great lengths to make it realistic, studying bodies in the morgue and bringing body parts to his studio to watch how they decayed. His painting blends Romanticism in its treatment of the figures and their placement on the canvas, with a harshness similar to that of Goya's paintings about warfare. Arabella Edge's 2006 novel The God of Spring (also titled The Raft
) is about Géricault and this painting.
Julian Barnes also wrote about it in Chapter 5 of his novel A History of the World in 10½ Chapters.



Historical Novels about the Pre-Raphaelites

In the mid-nineteenth century, Dante Gabriel Rossetti was among the founders of a new school of painting: the Pre-Raphaelites. They rejected the formal influence of the carefully posed figures in Renaissance paintings. Instead, they emphasized emotion and spirituality. Their personal lives often reflected the passions within their art, making them attractive subjects for historical novels.



Paddy Kitchen's 1981 novel The Golden Veil
is loosely based on the life of Elizabeth Siddal, who modeled for several of the Pre-Raphaelite artists. As dedicated as the artists, she posed in a tub of water for John Everett Millais's Ophelia, without complaint, long after the warming lamps went out and the water grew icy cold, contracting pneumonia as a result. Siddal married Dante Gabriel Rossetti and was the model for some of his most celebrated paintings.
Another of Rossetti's favorite models was Jane Burden, a beautiful but uneducated girl from a working class family. After marrying Rossetti's protégé William Morris, she embarked on an enthusiastic educational program, learning French and Italian and studying piano with private tutors. This fascinating woman is the subject of Elizabeth Hickey's 2008 novel The Wayward Muse.



Historical Novels about Impressionist Painters

The impressionist movement in art arose during the 1860s, with artists who aspired to capture light itself on their canvases. They were among the first to take their easels outdoors and paint in natural light instead of in the studio. Art critics and the public were shocked by this style because it was so radically different from the art they were used to.
Irving Stone wrote about one of the pioneering French Impressionists, Camille Pissarro, in his 1985 novel Depths of Glory. Pissarro, sometimes called the "Father of Impressionism," greatly influenced some of the Impressionists who are more famous today, such as Monet and Renoir, and served as a mentor for younger painters like Cézanne and Gaughin. The "bohemian" lifestyles of these painters was almost as shocking to people of their time as their new style of painting.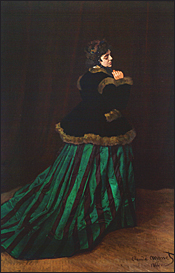 Camille Pissarro, Claude Monet, Auguste Renoir, and other Impressionist painters were close friends who supported each other when the public was not ready to accept their work. The women who loved them were also part of this circle of support. They modeled for their artist lovers, as the artists did for each other. Stephanie Cowell's 2010 novel Claude and Camille (see review) portrays not only the relationship between Claude Monet and Camille Doncieux, who became his first wife, but also the desperate financial straits the Impressionists struggled with and the way the helped each other when times were tough.

In her 2007 novel Luncheon of the Boating Party, Susan Vreeland writes about thirty-nine-year-old Auguste Renoir, struggling for recognition and income as the Impressionist movement separates into factions. His creation of the painting titled Luncheon of the Boating Party was a triumph not only of his painterly vision and skills, but also of recruiting and managing the men and women who served as his models.
Another Impressionist, Paul Cezanne, is the subject of a 2009 mystery novel by Barbara Corrado Pope, Cezanne's Quarry (see review). If Cezanne was never actually the subject of a murder investigation, the novel does explore some of the very real mysteries about Cezanne's life and painting.


Mary Cassatt grew up in a comfortable, upper-class American family who considered travel to Europe and lessons in drawing and painting a standard part of a young woman's education. They did not, however, expect their daughter to become a professional artist. Cassatt, who lived much of her life in France, had to struggle against both her parents' expectations and the art world's lack of support for women students and professionals. Harriett Scott Chessman's 2002 novel Lydia Cassatt Reading the Morning Paper is about the close relationship between Mary and her sister Lydia, who suffered from Bright's Disease. The two women, neither of whom married, lived together, and Mary painted Lydia often.
The portrait-painter John Singer Sargent is not usually considered an impressionist painter, but he used impressionist techniques to great effect in many of his portraits. His 1884 painting of the beautiful Paris socialite Virginie Gautreau in a low-cut black dress created a scandal and ruined her reputation. Gioia Diliberto's 2003 novel I Am Madame X is about the woman in the painting.
While preparing to write Luncheon of the Boating Party and other novels, Vreeland wrote numerous short stories about artists and the people touched by their art. These stories are collected in her 2004 book Life Studies. Most are set in the nineteenth century Impressionist and Post-Impressionist periods.



Historical Novels about
Post-Impressionist Artists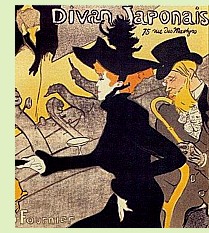 The French artist Henri de Toulouse-Lautrec suffered childhood injuries to his legs that left him partly lame and unusually short. He spent much of his time at the Moulin Rouge, a Paris nightclub. The dancers, prostitutes and other denizens of Paris nightlife accepted him in a way polite society did not. He repaid the favor with exuberantly colorful paintings that, even to modern eyes, have a bit of an edge. Pierre La Mure's 1950 novel about Toulouse-Lautrec, Moulin Rouge, was made into a movie in 1952 starring José Ferrer and Zsa Zsa Gabor, which received an Academy Award nomination for Best Picture.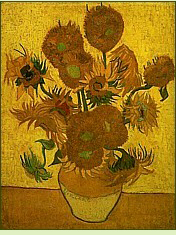 Among the most important Post-Impressionist painters was the Dutch artist Vincent van Gogh, whose shimmering paintings took Impressionism a step farther with their sometimes surprising colors and surrealistic forms. He suffered from bouts of mental instability, during one of which he is famously supposed to have cut off part of his left ear. Irving Stone's 1934 novel about van Gogh, Lust for Life, explores this artist's life, as dramatic and unusual as his art. The novel established Stone as a successful author.
Sunflowers (see review), a 2009 novel by art historian Sheramy Bundrick, imagines the relationship between van Gogh and the young prostitute in Arles, France, to whom he is said to have presented his severed ear. Alyson Richman's 2006 novel The Last Van Gogh is about van Gogh and Marguerite Gachet, the twenty-one-year-old daughter of the country doctor who treats him in 1890 during the last months of his life. Van Gogh in fact painted Marguerite Gachet several times, and the novel imagines their story as a tragic love story.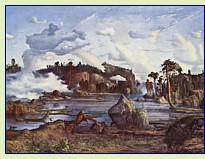 Lars Hertervig was a nineteenth century Norwegian artist who painted landscapes with an element of the surreal to them. Jon Fosse's 1995 novel Melancholy is about Hertervig's struggle with mental illness.
The French artist Paul Gaughin did his most characteristic and best-known work in Tahiti. His maternal grandmother Flora Tristan, whom he never knew, was a feminist and political activist in Peru. In his 2003 novel The Way to Paradise, Mario Vargas Llosa writes about the contrasting yet similar lives of grandmother and grandson.

Canadian artist Emily Carr was born and raised in British Columbia of English-born parents. Her family and community, while encouraging her talent for drawing and painting, did not approve of her interest in Native American art or her friendships with people in a nearby Native American village. In her most productive period as a painter, following a stay in France where she studied post-Impressionist painting techniques, she painted numerous canvases of Native American totem poles and villages, gradually shifting more and more to semi-abstract paintings of the forests and coast of British Columbia. Her work received little attention until she was in her mid-fifties and had given up painting. Susan Vreeland's The Forest Lover movingly portrays her life as an artist.


A Novel about Gustav Klimt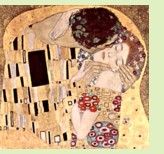 The end of the nineteenth century and beginning of the twentieth saw the birth of Art Nouveau – the "new art". A European enthusiasm for Japanese wood block prints influenced the works of artists during this time, who experimented with flowing and stylized forms inspired by nature. Gustav Klimt's paintings, full of decorative motifs, are among the finest examples of Art Nouveau. In her 2005 novel The Painted Kiss, Elizabeth Hickey writes about this controversial Viennese artist and his romantic relationship with one of his students.



See this group of novels at Powells.com

See this group of novels at Amazon.com