Now We Shall Be Entirely Free
by Andrew Miller
Reviewed by Annis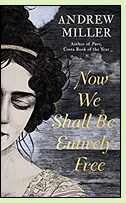 Traversing England, Spain and Scotland, Now We Shall be Entirely Free is set during the Napoleonic era. With an artful nod to the Regency Gothic novel, it opens on a dark and stormy night as a coach lurches through rural Somerset with its comatose cargo. Sorely wounded in both body and spirit, English cavalry officer John Lacroix is deposited unannounced at his lonely country estate.

Although nursed back to physical health by steadfast Nell, his housekeeper, Lacroix remains thoroughly unhinged. Unable to face a return to the horrors of the Peninsular War, he makes a run for it, seeking sanctuary and surcease from inner torment in the magical wilds of the remote Scottish Hebrides.

The heart of the matter is gradually revealed - a wartime atrocity at a Spanish village, perpetrated by English soldiers during a harrowing winter retreat to Corunna by British forces at the close of 1808. Although the question of blame poses a much more complex moral conundrum, the British government's simple solution is acceptable to all  - a scapegoat offered up to placate its Spanish allies.

As Lacroix stumbles in a self-medicated daze along the pilgrim's path towards his Isles of the Blessed, he has unwittingly become the subject of a manhunt. On his trail is Corporal Calley, sociopathic agent of summary justice, whose frustrated attempts to pin down his prey are both darkly comic and utterly terrifying.

Suspenseful, beautifully nuanced and vividly realised, with its Robert Louis Stevenson-meets-Henry James sensibility Now We Shall be Entirely Free is a period thriller with perennial relevance. Not as well known as he should be, Miller has a superb sense of story and characterisation and a masterful ability to evoke the tragicomedy that is the human condition. Is the sin of omission worse than the sin of commission? Will Lacroix survive long enough to find redemption through love? Expect no easy answers. (2018, 432pgs). Longlisted for the 2018 Man Booker Prize.
More about Now We Shall Be Entirely Free at The Book Depository
Also by Andrew Miller:
Pure
(2011), about a young engineer in pre-revolutionary Paris who is tasked with clearing the ancient, overflowing Les Innocents Cemetery, a place of contagion and corruption. Winner of the 2011 Costa Book Award.
More info
Other novels set during the Peninsular War:
Death to the French
by C.S. Forester (1932), about a British rifleman accidentally trapped behind enemy lines; an indictment of the never-ending, destructive cycle of war. Titled Rifleman Dodd in the U.S. See
review
or
more info at The Book Depository
Sharpe's Rifles
by Bernard Cornwell (1997), #6 (chronologically) in the "Sharpe" series, and the first set during the Peninsular War, about a soldier in the 95th Rifles who is cut off from the rest of the army and surrounded during the French invasion of Galicia in January, 1809.
More info
The Spanish Bride
by Georgette Heyer (1940), based on the true story of distinguished English soldier Sir Harry Smith and his wife Juana María de los Dolores de León, who followed her husband on campaign.
More info
Nonfiction about the Peninsular War, PTSD and the Hebrides:
March of Death: Sir John Moore's Retreat to Corunna, 1808-1809
by Christopher Summerville (2016).
More info
The Evil Hours: A Biography of Post-Traumatic Stress Disorder
by David J. Morris (2015).
More info
The Hebrides: An Aerial View of a Cultural Landscape
by Angus MacDonald & Patricia MacDonald (2010).
More info
Online:
Dismal British Retreat to Corunna
by Eric Niderost at the Warfare History Network website
PTSD and Shell Shock
at History.com
Back to Novels of the Napoleonic Era
Back to Directory of Book Reviews