Death to the French
(also titled Rifleman Dodd)
by C.S. Forester
Reviewed by Annis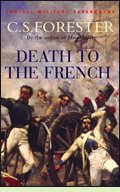 "Morran os Franceses! Death to the French!" is the cry echoing throughout Portugal in 1810. Crushed between Napoleon's imperial ambitions and British commander Lord Wellington's ruthless determination to thwart them, Portugal is now a desert, the land stripped, its people famished and suffering. Their fury focuses on the French invaders. Mutual hatred spawns unspeakable atrocities. French dragoons torture, rape and kill hapless Portuguese peasants; Portuguese guerrillas treat captured French soldiers with merciless ferocity.
Caught up in French Marshal Masséna's push to pin down Wellington's forces are British Rifleman Matthew Dodd of the Ninety-Fifth "Rifles" and Sergeant Godinot, leader of an infantry unit of ill-fed, demoralised young French conscripts. When Dodd is trapped behind French lines during the British retreat to Lisbon, their lives become enmeshed, and as events unfold they are seen in mirror image from both points of view. Although Dodd remains unaware of Godinot and his comrades, to them the elusive, deadly "Green Englishman" represents their nemesis.
Burly, phlegmatic Dodd is a rank-and-file soldier with years of campaigning behind him. The brotherhood of his company is his only reality. Separated from the British Army, his sole imperative is to rejoin it. Wellington's fortifications at Torres Vedras stall the French for interminable months, but also keep Dodd from his objective. With the aid of Portuguese companions he single-mindedly harries the French soldiers in his way, compounding their misery and drawing on tactical and leadership skills previously untapped.
A powerful, uncompromising tale, Death to the French is both a testament to the uncelebrated courage and resolution of the common soldier ("the only reward for the doing of his duty would be the knowledge that his duty was being done"), and an indictment of the never-ending, destructive cycle of war: "The ruin and desolation … might even constitute a shining example to a later generation, which, with the additional advantages of poison gases and high explosive, might worthily attempt to emulate it". (1932; 150-260 pages in most editions)
More about Death to the French at Powell's Books or Amazon.com
(titled Rifleman Dodd in some newer editions)

Other novels set during the Napoleonic Iberian Peninsular War:
The Gun by C.S. Forester (1933). More info
Too Few for Drums by R.F. Delderfield (1964). More info
Sharpe's Battle by Bernard Cornwell (1997). More info

Nonfiction about the Peninsular War and the "Ninety-Fifth":
Peninsular Eyewitnesses: The Experience of War in Spain and Portugal. 1808-1813 by Charles J. Esdaile (2009). More info
Wellington's Rifles: Six Years to Waterloo with England's Legendary Sharpshooters by Mark Urban (2004). More info
The Lines of Torres Vedras: The Cornerstone of Wellington's Strategy in the Peninsular War, 1809-1812 by John Grehan (2001). More info

At the Movies:
The Pride and the Passion
, a 1957 movie based on Forester's Peninsular war novel The Gun, starring Frank Sinatra, Cary Grant and Sophia Loren, plus a monstrous cannon.

Online:
Back to Novels of the Napoleonic Era

Back to Directory of Book Reviews