The Lord of Vik-Ló

by James L. Nelson

Reviewed by David Maclaine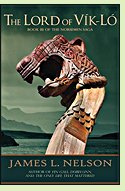 The Lord of Vik-Ló, third in the Norsemen Saga, is in many ways the most satisfying. Although the tale begins with Thorgrim Night Wolf, his son Harald and his drunken father Ornolf plying the waters of the Irish Sea en route to their Norwegian home, it isn't hard to guess that a looming storm will drive them back to Ireland. Once back on those familiar strands, the plot focuses on a localized struggle between minor lords. This means Nelson has no need to distort or oversimplify the politics of this land of many kings. Instead his story becomes a relatively clean-cut three-sided struggle between a Norwegian, a Dane and an Irishman. A little down the coast from Dublin, in the tiny Viking outpost of Vik-Ló - the germ of modern Wicklow - the local lord is a Dane known as Grimarr the Giant. Grimarr's pressing concern is the whereabouts of a missing treasure hoard he plundered from a local monastery and entrusted into a dead partner's keeping. Also keenly interested is a minor Irish king who hopes the missing hoard will help him shed that "minor" status.
As in the other volumes, secrets and betrayals will culminate in bloody hand-to-hand combat. The new locale and tighter focus offer a shiny new piece in the great mosaic it will take to depict the full riches of the historical clash between the Irish and assorted Scandinavian newcomers. A welcome addition in The Lord of Vik-Ló is Nelson's thorough coverage of the nuts and bolts - or strakes and varnish - of longship repair and the nuances of the ships' sailing and navigation. The flaws are minor: I wish the author would learn the difference between "lay" and "lie," and avoid the recently common misuse of "begs the question." I also still think he over-armors his Irish troops. But these small deficiencies do little to dampen the pleasure of following his deftly drawn warriors into another round of hard-hewing battle. (2015, 308 pages)
More about The Lord of Vik-ló at Amazon.com
Other novels about Vikings in Ireland:
Fin Gall
by James L. Nelson (2012), #1 in the Norsemen Saga. See
review
or
more info at Amazon.com
The Kings in Winter
by Cecelia Holland (1967), about the defense of Ireland by Brian Boru and his army against Viking invaders at the Battle of Clontarf in 1014. See
review
or
more info at Amazon.com
The Deepest Sea
by Charles Barnitz (1996), historical fantasy about the eighth-century sea voyages of the son of a Viking settler in Dublin. See
review
or
more info at Amazon.com
Nonfiction about Vikings in Ireland:
Vikings of the Irish Sea
by David Griffiths (2010).
More info
The Vikings in Ireland
by Anne-Christine Larsen (2001).
More info
The Vikings in Ireland: Settlement, Trade and Urbanization
by Mary A. Valante (2008).
More info
Online:
The Vikings
at
The Irish Times
website.
Back to Medieval Scandinavia and the Vikings
Back to Directory of Book Reviews