The Long Sword

by Christian Cameron

Reviewed by David Maclaine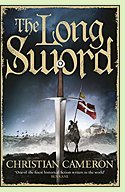 William Gold, the newly-knighted hero of The Long Sword (second in the Chivalry series), learns early in the novel that his oath of allegiance to the Order of the Hospital will demand a higher price than he realized. Father Pierre, Grand Master of the Order, calls him to service in a crusade led by King Peter of Cyprus, an endeavor of uncertain prospects. In the cities of northern Italy where Gold must follow his master, politics are more complex than the wars in which he fought against France for England. Here, friends and foes intertwine like an Escher pattern. The new knight's old enemies, including the husband of the woman he loves, weave complex plots that involve the Pope, an Emperor, the Bishop of Geneva, several kings, two powerful Italian cities, and the decidedly hostile Green Count of Savoy. Gold and his companions, including the great master of hand combat Fiore di Liberi, must use their hard-won combat skills again and again as conspirators aim to thwart Father Pierre's crusade by any means available, including the murder of the Grand Master. With these threats looming, our hero must track down the wandering King Peter before the crusading army melts away.
We remain confident this faction-riddled expedition will sail at last, because the prologue to The Long Sword sets the tale in motion with the great chronicle author Froissart leaning past Geoffrey Chaucer to say, "Tell us about your crusade." And a map in the front of the novel gives away the secret of the destination: Alexandria, where one of the most amazing and horrific episodes in crusading history will test Gold's resolve to live up to his knightly ideals. In another tale of bloody war, with Christian Cameron's extensive knowledge of medieval arms and armor on full display, the author delves deep into the dilemmas at the heart of the medieval warrior's code. (2016; 448 pages)
More about The Long Sword at Powell's Books
or
Amazon.com
Other novels set during the later Crusades:
Crossed
by Nicole Galland (2005), about the misadventures of a Welsh minstrel, a German knight, a prostitute and a mysterious princess during the Fourth Crusade. See
review
or
more info at Powell's Books
Lord Geoffrey's Fancy
by Alfred Duggan (1962), about thirteenth-century French crusaders in Greece.
More info
Antichrist
by Cecelia Holland (1970), about Frederick II, Holy Roman Emperor from 1220-1250, and his involvement in the Crusades.
More info
Nonfiction about the Alexandrian Crusade:
The Capture of Alexandria
by Guillaume de Machaut (early 1370s; English translation by Janet Shirley and Peter W. Edbury 2001).
More info
The Kingdom of Cyprus and the Crusades
by Peter W. Edbury (1991).
More info
Online:
Alexandrian Crusade at Wikipedia




Back to Medieval 14th-15th Centuries


Back to Directory of Book Reviews