The Kings in Winter

by Cecelia Holland

Reviewed by David Maclaine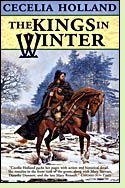 The Kings in Winter is set in Ireland during the years 1013-1014, the months building to the great clash at Clontarf, one of the most famous battles in Irish history. Rather than focusing directly on the assortment of kings drawn into the coming conflict, the novel centers on Muirtagh, a minor clan chief, bowman and harper who, as the novel opens, is trying to prevent a new outbreak of clan feuding. A massacre in Muirtagh's youth that claimed his father and drove the severely weakened clan from its homeland has long gone unavenged, due in part to an oath Muirtagh swore and in part to his understanding that another bout of violence could lead to his people's destruction. But the enemy clan suspects Muirtagh will be unable to control his younger brother Cearball, who has grown into a renowned warrior, called "Dane-killer" for his prowess in battle against Ireland's various Scandinavian colonies. After Muirtagh, performing with his harp, reminds this clan that their butchery has not been forgotten, it becomes clear that without intervention from the High King, another massacre will follow. Though his cause is just and worthy of the High King's support, political realities suggest that with war against the Norse looming, Muirtagh's powerful enemies will have more sway. His quest to preserve his people while gaining some semblance of justice will take him, at last, to the fateful field where the High King and his Irish allies meet the rebellious Irish of Maelmordha of Leinster and their Norse allies from Dublin and the Isles.
Holland's great gift for making a distant time come to life is already on display in The Kings in Winter, her third novel, and Muirtagh's tale is a deeply moving one. Once or twice she repeats suspect details from the literary sources on the great battle, but her advanced mastery as a storyteller even at this early stage of her career easily outweighs these brief flashes of historical naiveté. (1967, 208 pages)
More about The Kings in Winter at Amazon.com
The Kings in Winter
appears on the list of
The 45 Best Historical Novels Set in the Viking Age
Other novels set in medieval Ireland:
The Book of Kells
by R.A. MacAvoy (1985), about a mild-mannered artist and his assertive lover who slip back in time to tenth-century Ireland.
More info
Lion of Ireland
by Morgan Llywelyn (1980), about the tenth-century Irish high king Brian Boru.
More info
Daughter of Lir
by Diana Norman (1988), about a woman raised in a Norman convent who goes to Ireland to become Abbess of Kildare and falls afoul of a brutal king's politics. See
review
or
more info at Amazon.com
Nonfiction about the Battle of Clontarf and the High King Brian Boru:
The Battle of Clontarf: Good Friday, 1014
by Darren McGettigan (2013).
More info
Brian Boru: King of Ireland
by Roger Chatterton Newman (2011).
More info
Brian Boru: Ireland's Greatest King?
by Maire Ni Mhaonaigh (2006).
More info
Online:
Battle of Clontarf
at Clontarf.ie, a website sponsored by the Clontarf Residents' Association and the Clontarf Business Association (Clontarf is now a suburb of Dublin)
Back to Novels of the Medieval Celts
Back to Directory of Book Reviews