God of Vengeance

by David Maclaine

Reviewed by David Maclaine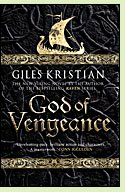 God of Vengeance should delight fans of Giles Kristian's Raven trilogy. Author Kristian makes a metaphorical homecoming (after two novels set in the English Civil War) back to the Viking Age heroics of that first series, taking his Viking leader Sigurd backward in time to the bloody episodes that marked his transition from younger son to war-leader. And while the Raven books followed Sigurd's band in astonishing raids across most of western Europe, this novel offers another sort of homecoming: the action, though just as fierce and fraught with peril, takes place entirely among the fjords and islands of western Norway.
The author's mastery of historical and cultural texture gives the feeling of immersion in a fully imagined society. His tale turns on and profits from such crucial details as the relative rarity and cost of a coat of mail. Although the book offers a conventional enough narrative of betrayal and revenge, with much emphasis on the process of tracking down warriors who might become a faithful corps of followers, the story never feels contrived or formulaic. Kristian's storytelling skills have progressed in the course of five novels, and even though the reader must strongly suspect how the drama will end, there is ample suspense along the way. God of Vengeance offers a vibrant view of the bloody local warfare that honed the skills of Scandinavia's warriors before they began to sail off in search of easier prey. (2014, 320 pages)
More about God of Vengeance at Powell's Books
or
Amazon.com
Other novels about young Vikings:
The Whale Road
by Robert Low (2007), about a young man who joins a group of Viking raiders searching for a treasure with a curse on it; #1 in the Oathsworn series. See
review
or
more info at Powell's Books
Vinland
by George Mackay Brown (2005), about a young Viking who voyages from Orkney to Norway, Iceland and Ireland during the shift from paganism to Christianity.
More info
Viking Warrior
by Judson Roberts (2006), about a fourteen-year-old Viking slave suddenly given the chance to become a warrior after his father dies; #1 in the Strongbow Saga. A YA novel recommended for ages 14 and up, also suitable for adults. See
review
or
more info at Powell's Books
Nonfiction about Vikings:
The Vikings: A History
by Robert Ferguson (2009).
More info
The World of the Vikings
by Richard Hall (2007).
More info
A History of the Vikings
by Gwyn Jones (2nd edition, 1984).
More info
At the Movies:
The Long Ships
, the 1964 Viking adventure movie starring Richard Widmark and Sidney Poitier.
Online:
Vikings
at the BBC History website
Back to Novels of the Medieval Vikings
Back to Directory of Book Reviews