The Deepest Sea
by Charles Barnitz
Reviewed by Annis


The heart of a woman is deeper than the deepest sea in the world (Breton proverb)
Get comfortable around the fire as Irish-Viking skald Bran Snorrison shoots the breeze, enthralling his audience with a blood-thirsty, magical, outrageously funny yarn spun from his adventures during the late eighth century, and embellished by wry insight garnered over 1200 years.
Life is good for the followers of Orm Jarl, a wealthy Danish chieftain who settles at Clontarf in Ireland. Bran, the son of one of Orm's Danish thanes and his Irish wife, is a smart kid who picks up runelore, verse-making and Latin from Clontarf's rival holy men, skald Skallagrim and Christian priest Goltrade.
One spring, Orm recklessly takes six dragonships into the heart of English Mercia, where King Offa's ale-fueled Anglo-Saxon warriors promptly make mincemeat of their crews. Clontarf's new chieftain Sygtrygg proposes an easy, profitable vik (raiding trip) into the Baltic to cement his leadership, but he's overruled by his hardcore ally Thorfinn Skullsplitter, who's determined to avenge Orm's death in Mercian blood. England it is.
Bran's first ever vik is a doozy. He gets ambushed and lost in Wales, washed overboard and rescued by monks in Northumbria, kidnapped on Ravenshill Moor by yokels in desperate need of a dragon-slayer, and attacked by Picts near Hadrian's Wall as he tries to find his way back to Ireland. He witnesses a pivotal event in English history: the sack of Lindisfarne monastery by a fleet of opportunistic Danes. He acquires a glittering wyrm-hoard, immortality and a strong-minded female travelling companion (strong-minded women prove both his blessing and his bane).
The Deepest Sea conjures up a time when wonders are possible and a "shoot-first-and-ask-questions-later existentialism" prevails. In the best storytelling tradition, Bran spins universal truths into his tall tale. "Dragons are where you find them and what you make of them, that's the lesson of the last twelve centuries." (1996; 540 pages, including maps of eighth century Irish Clan territories and English kingdoms)
More about The Deepest Sea at Powell's Books or Amazon.com
The Deepest Sea appears on the list of The 45 Best Historical Novels Set in the Viking Age


Other novels about Vikings:
Sons of Thunder by Giles Kristian (2010), about a band of Vikings bent on revenge against a man who has stolen their ship; #2 in the Raven trilogy. See review or more info at Powell's Books
The Last Kingdom by Bernard Cornwell (2006), about a Saxon raised as a Viking who joins the army of King Alfred; #1 in the Saxon Chronicles series. See review or more info at Powell's Books
Princes of Ireland by Edward Rutherfurd (2006; also titled Dublin: Foundation), about ; #1 in the Dublin Saga. More info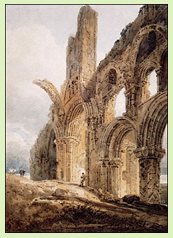 Nonfiction about the Vikings in Ireland and England:
English Heritage Book of Lindisfarne: Holy Island by Deirdre O'Sullivan and Robert Young (1995). More info
The Vikings in Ireland: Settlement, Trade and Urbanization by Mary A. Valante (2008). More info
Viking Age England by Julian D. Richards (2004). More info

At the Movies:
The Vikings
, the classic 1958 action movie starring Kirk Douglas and Tony Curtis as a Viking prince and a slave who vie for the favor of a princess they abduct, played by Janet Leigh.

Online:
Holy Island - Lindisfarne at the Northumberland website



Back to Medieval: Scandinavia and the Vikings

Back to Directory of Book Reviews