Crowbone
by Robert Low

Reviewed by David Maclaine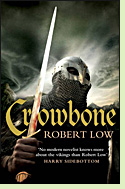 Crowbone, fifth in the "Oathsworn" series, takes its anti-heroes westward to the Irish Sea for the first time. Also for the first time since the opening novel of the series, the story is not narrated by Jarl Orm the Bearslayer. In this novel, the third-person viewpoint shifts as an assortment of groups vie for control of another precious object, all of them set in motion by an old enemy of the brotherhood. This time the main mission is entrusted to Olaf Trygvesson, that scion of Norwegian royalty who goes by the name Crowbone. He's in his late teens now and as determined as ever to claim the throne of Norway and wreak vengeance on his enemies, not necessarily in that order. But he's put to his sternest test yet with an independent command that must navigate waters swirling with treachery when they're not wracked by deadly storms. Along the way his bloody path crosses that of several major players in history, including the king of Norse Dublin, Olaf Cuaran; and the high king of Ireland, Mael Sechnaill; not to mention Gormflaeth, the remarkable woman who would spend time as wife of both. In the center of the plot is another famous tenth-century woman, Gunnhild, known to saga as the Kingsmother. To Crowbone she is the Witch-Queen, his mortal enemy when he was still in the womb. Her last surviving son, Gudrod, is young Olaf's chief rival for the Norwegian throne.
As ever, Low's tale is as grim and blood-spattered as a Cormac McCarthy novel, and the islands fringing the Scottish coast are no country for old men, or old women. It takes the reader from stormy shipwreck to pitched battle, all with a feel of vivid reality.  Low's writing continues to impress with its richness and power. His story-telling remains uncompromising in its treatment of the harsh, violent lives of men who earn their fame and fortune with blows of a battle ax. (2012, 432 pages)
More about Crowbone at Amazon.com
Crowbone
appears on the list of
The 45 Best Historical Novels Set in the Viking Age
Other novels set in the time of Gormflaith:
The Book of Kells
by R.A. MacAvoy (1984), about a man and a woman who slip back in time to Ireland in the time of Gormflaith.
More info
The Kings in Winter
by Cecelia Holland (1967), about the defense of Ireland by Brian Boru's army against Viking invaders at the Battle of Clontarf in 1014.
More info
Lion of Ireland
by Morgan Llywelyn (1980), about the high king of Ireland Brian Boru.
More info
Nonfiction about Viking invasions of Ireland:
The Vikings in Ireland
by Morgan Llywelyn (1997).
More info
The Vikings in Ireland: Settlement, Trade and Urbanization
by Mary A. Valante (2008).
More info
The Viking Age: Ireland and the West
edited John Sheehan et al. (2010).
More info
Online:
Gormflaith
at the Library Ireland website

Back to Medieval Scandinavia and the Vikings

Back to Directory of Book Reviews