Court of Lions
by Jane Johnson
Reviewed by Margaret Tomlinson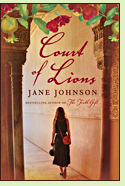 Set mostly in Granada, Spain, Court of Lions moves back and forth between the present and the reign of Ferdinand and Isabella, with a special focus on the Alhambra, the magnificent palace of the sultans of Granada for more than two centuries. There, present-day British traveler Kate discovers "an old screw of paper" with odd writing on it. Kate is no ordinary tourist. After two bad marriages, she is hiding out in Spain, trying to recuperate while working for an obnoxious restaurant owner. Meanwhile, in the fifteenth century, Blessings, a boy servant to Prince Abu Abdullah Mohammed, is dealing with his own troubles: ill omens and a furious outburst by the prince's mother, the sultana, which sets in motion a series of heart-wrenching events.

Abu Abdullah Mohammed was known as "Boabdil" to the Spaniards who claimed his kingdom and drove both the Moors and the Jews from Spain around the same time they funded Columbus's voyage to the New World. This last Moorish ruler, who lost his kingdom to a Spain that would become infamous for its religious persecutions, is an especially romantic figure in the eyes of his adoring servant. 

Novels that cross centuries are usually held together by a fantasy or occult device such as time travel or reincarnation. In Court of Lions, only the Alhambra, along with a handful of artifacts from fifteenth-century Granada that survive for Kate to find, tie the two settings clearly together, although echoes between the stories of Kate and Blessings exist for thoughtful readers to consider. Strong suspense throughout will keep most readers turning the pages, even if the two stories are not as firmly knitted together as in the typical time-crossing novel. And if Boabdil's end is tragic, the romance-tinged finale of Kate's story offers enough of a happy ending to satisfy readers who need one. (2018; 397 pages, including an Author's Note and bibliography)
More about Court of Lions at Powell's Books
or
The Book Depository
Other novels in which Boabdil plays a role:
The Moor's Last Sigh
by Salman Rushdie (1995), about four generations of a Bombay family, narrated by a family member known as "the Moor," a reference to Boabdil.
More info
Leo Africanus
by Amin Maalouf (1986), about the title character (based on a historical person) and his travels through the Mediterranean world in the early sixteenth century.
More info
Nonfiction about Moorish Spain and the Alhambra:
The Ornament of the World
by Maria Rosa Menocal (2003), about the medieval Moorish kingdom of al-Andalus in what is now Spain, from its origins in the eighth century to its destruction in 1492.
More info
The Alhambra
by Robert Irwin (2011).
More info
Tales of the Alhambra
by Washington Irving (1832), a collection of travel sketches, history, myth and essays inspired by Irving's 1828 visit to the Alhambra.
More info
Online:
Historical Introduction to the Alhambra
at the Alhambra website
Back to Medieval: Fourteenth-Fifteenth Centuries
Back to Directory of Book Reviews