Bohemian Gospel

by Dana Chamblee Carpenter

Reviewed by Margaret Tomlinson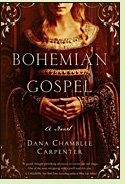 Plot is everything in Bohemian Gospel, a rip-roaring supernatural tale for readers willing to suspend disbelief over some stiff credibility challenges. With a few notable exceptions, the novel generally fits itself around the history of King Ottakar II, who ruled Bohemia from 1253 to 1278 when he was killed in the Battle of Marchfeld.
In the gripping opening scene, fifteen-year-old Mouse insists on using her precocious healing skills to tend young King Ottakar, grievously wounded and on the point of death. Though she longs to be like other people, Mouse has powers far beyond the ordinary, so far beyond that one of the ways in which readers must suspend disbelief is to accept her reluctance to use them and thereby make mincemeat of the plot. Mouse knows little about her parentage or the origin of her powers. She was brought to an abbey shortly after her birth, where the monks and nuns who raised her balked at having her baptised. One of her powers is the ability to see the souls within people, from the brilliant light of the most spiritually attuned to the slight flicker of babies within the womb. She can see every soul but her own and fears she does not have one.
Readers may find the title misleading. Bohemian Gospel is a horror story with romance running through part of it. Its theology is that of old-time vampire movies with their lurid, warring contrasts between good and evil. Mouse is caught in the middle, her compassion and essential goodness at odds with her lack of a soul and the attraction she seems to hold for hissingly evil supernatural beings. Only at the end does the real Codex Gigas, a medieval Bohemian book known as the Devil's Bible because of a legend behind its creation, enter the story to clarify the title. Though Bohemian Gospel is not for readers keen on historical accuracy, it's hot stuff for lovers of horror stories. (2015; 369 pages)
More about Bohemian Gospel at Powell's Books
or
Amazon.com
Other historical horror stories:
Between Two Fires
by Christopher Buehlman (2012), about a disgraced Norman knight who travels to Avignon in 1348 with the lone survivor of a plague-stricken town, a girl who claims to have spoken with angels.
More info
The Historian
by Elizabeth Kostova (2005), about a young woman who discovers her father is involved in a search for Dracula; story threads take place in the 1970s, the 1950s and the 1930s.
More info
The Gallows Curse
by Karen Maitland (2011), about a servant girl falsely accused of murdering her child during the time when England is excommunicate because of King John's falling out with the pope.
More info
Nonfiction about medieval Bohemia:
A History of the Czech Lands
edited by Jaroslav Panek and Oldrich Tuma (2009).
More info
Central Europe in the High Middle Ages: Bohemia, Hungary and Poland, c. 900-c. 1300
by Nora Berend, et al. (2013).
More info
Codex Gigas: The Devil's Bible
by Herman the Recluse.
More info
Online:
Otakar II: The Iron and Golden King
at the Private Prague Guide website
Back to Medieval 12th-13th Century Europe

Back to Directory of Book Reviews