Austerlitz
by W.G. Sebald
Reviewed by Margaret Tomlinson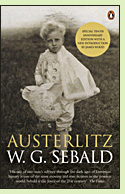 Austerlitz is the surname of the central character in this subtle, extraordinary novel. It also refers to the 1805 battle in which Napoleon devastated the Austrian and Russian forces arrayed against him. There, Napoleon displayed his prowess as a tactician, feigning weakness to draw his enemies into a trap the brilliance of which they discovered too late to escape. So, with this novel, readers are drawn in before the full impact of the author's brilliance hits them.

In the narrator's travels in the late 1960s, he passes through an incongruously magnificent waiting room in Antwerp's central railway station, the "Salle des pas perdus," where he encounters a man who, uniquely, "was not staring apathetically into space, but instead was occupied in making notes and sketches" and taking photographs. This is Austerlitz, a scholar who, seemingly for no particular reason except to entertain and inform himself, has made a study of architecture, particularly public buildings and military fortresses, and particularly—we later learn—the fortress erected in 1780 by the Hapsburg Emperor Joseph II in honor of his mother, Empress Maria Theresa. Photographs, like documentary evidence, are salted throughout the novel.

Austerlitz has a more personal and intriguing story which he begins to share with the narrator in disconnected memories of his younger years: a rucksack purchased in an army surplus store, "the only truly reliable thing in his life;" the anxiety provoked by a tale in a book of Bible stories for children, that of Moses's mother "who made an ark of bulrushes and daubed it with slime and with pitch, placed the child in the ark and laid it among the reeds by the side of the water."

To say much more would be to spoil the unfolding of the narrative, which gathers and darkens like a fall of twilight. Suffice it to say that Austerlitz's childhood in Wales during the 1940s is not where the boy's story truly begins. (2001, 298 pages. If you read an edition with James Wood's introduction, be forewarned that it tells too much of the story, but is worthwhile after you've read the novel.)
More about Austerlitz at Powell's Books
or
The Book Depository
Other historical novels with slowly revealed backstories:
The Anchoress
by Robyn Cadwallader (2015), about a young woman who becomes a a religious recluse in thirteenth-century England. See
review
or
more info at The Book Depository
The Gargoyle
by Andrew Davidson (2008), about a modern man severely injured in a car wreck who is visited in the hospital by a mysterious woman claiming to have healed him before when she was a nun in fourteenth-century Germany. See
review
or
more info at The Book Depository
The Monsters of Templeton
by Lauren Groff (2008), about a present-day woman, descended from a famous author, who returns to her hometown in upstate New York and researches her ancestors going back to the town's founding in the late eighteenth century. See
review
or
more info at The Book Depository
Nonfiction about architecture in history:
Medieval Architecture
, by Nicola Coldstream (2002).
More info
The Forts and Fortifications of Europe 1815-1945: The Central States: Germany, Austria-Hungary and Czechoslovakia
(2014).
More info
Railroad Stations
by Brian Solomon (2003), part of the Metrobooks Great Architecture series.
More info
Online:
Central Station
, a look at Antwerp's extraordinary railway station
Back to 20th Century: WWII Europe Home Front
Back to Directory of Book Reviews