The Gargoyle
by Andrew Davidson
Reviewed by Margaret Donsbach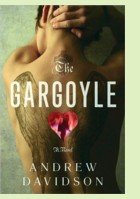 The Gargoyle opens with a harrowing present-day car wreck which leaves the narrator severely burned and unlikely to survive. The physically beautiful body which led him to a career in pornographic movies is destroyed. What remains is a monstrous exterior that matches his inner self-loathing, along with the inquisitive, skeptical mind that helped him survive his disordered childhood.
A mysterious woman visits him in the hospital. "Her eyes … burned like the green hearts of jealous lovers who accuse each other at midnight. No, I'm wrong, they were not green: they were blue. Ocean waves tossed around her irises, like an unexpected storm ready to steal a sailor from his wife…. She appeared in the burn ward door dressed in a light green hospital gown, with those unsolvable eyes and that riotously entangled hair, and I waited for the gasp that inevitably came whenever someone saw me for the first time. I waited for her to cover her mouth with her hand, in shock and dismay. She disappointed me by only smiling. 'You've been burned. Again.'"
It is never clear whether Marianne is schizophrenic, manic-depressive or some combination of both, but it does seem clear she is delusional. Before making significant decisions, she consults her "Three Masters," invisible spirits who include the fourteenth century mystic and theologian Meister Eckhart. She talks of her life as a fourteenth century German nun in the Beguine convent of Engelthal, and about the narrator's fourteenth century life as an injured soldier entrusted to her care. But her loving spirit trumps her "craziness." And her stories prove bafflingly consistent with historical fact.
Davidson's characters rise almost tangibly from the page as physical, emotional and spiritual beings, pulling the reader into an intense novel about paradox, love and pain. The Gargoyle contains an abundance of ideas to ponder, none pat, none easy to encapsulate except perhaps in Meister Eckhart's words: "Love is as strong as death, as hard as Hell." (2008, 465 pages)
This is on my list of The Ten Best Historical Novels I Read in 2008.
More about The Gargoyle from Powell's Books

Other literary novels about medieval spirituality:
Narcissus and Goldmund by Hermann Hesse (1930) More info
Knowledge of Angels by Jill Paton Walsh (1994) More info

Nonfiction about Meister Eckhart:
The Mystical Thought of Meister Eckhart: The Man From Whom God Hid Nothing by Bernard McGinn (2001) More info
Meister Eckhart by Edmund Colledge (1982) More info

Nonfiction about Mechthild von Magdeburg and the Beguine convent at Engelthal:
The Mystics of Engelthal: Writings from a Medieval Monastery by Leonard P. Hindsley (1998) More info
Ecstatic Transformation: Transpersonal Psychology in the Work of Mechthild of Magdeburg by Ulrike Wiethaus (1995) More info

Online:
About Mechthild von Magdeburg at PoetSeers.org

About Meister Eckhart at The Eckhart Society website



Back to Medieval, 14th-15th Centuries

Back to Directory of Book Reviews