Agincourt
By Bernard Cornwell
Reviewed by Margaret Donsbach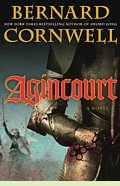 Agincourt is a masterpiece of war fiction, taking readers as close to the experience of medieval warfare as any of us would probably ever want to come.
Nicholas Hook is an English shepherd's son, trained to the bow from childhood, embroiled from birth in a vendetta against the family responsible for his grandfather's murder. The constant pitch of suspense in this novel comes partly from the family feud, which follows Hook across the Channel, as well as from his experiences as an archer in Henry V's army.
"The first sound was the bowstrings, the snap of five thousand hemp cords being tightened by stressed yew, and that sound was like the devil's harpstrings being plucked. Then there was the arrow sound, the sigh of air over feathers, but multiplied, so that it was like the rushing of a wind....
"For an instant there was silence.
"Then the arrows struck.
"It was the sound of steel on steel. A clatter, like Satan's hailstorm.
"And the day's noise of pain began."
Cornwell's research is wide and deep, presenting minute details of medieval life such as the construction and use of the English longbow, as well as authentically recreating the psychology of a time when people felt fewer qualms about killing but also cleaved to a piety we would, today, find both inconsistent to the point of irrationality and simplistic to the point of superstition. Never do these details slow the novel's page-turning pace; rather, they bring readers inside the world of the story and intensify our identification with the characters.
Remarkably, Cornwell makes readers thrill to the triumph of the English victory at Agincourt without glorifying warfare itself. The triumph is, in fact, directly proportional to the fear, suffering and degradation of the campaign preceding it, as well as to Hook's enduring struggle to remain alive amid the carnage, not just literally, but emotionally and spiritually.
(2008, 451 pages, including a Historical Note separating fact from fiction; titled Azincourt in the U.K., after the French spelling of the battle site)
More about Agincourt (including a video trailer and an interview with Cornwell) at Powell's Books
Agincourt is on my "Best Historical Novels I Read in 2009" list.
Essay by Bernard Cornwell at Powell's Books

Other exceptional fiction about warfare:
The Iliad by Homer (circa 800 B.C.), the magnificent epic poem about the Trojan War. More info
Rakóssy by Cecelia Holland (1966), about a sixteenth-century Hungarian baron defending his castle from the Turks. More info
Durandal by Harold Lamb (1931), about a Crusader knight who survives a disastrous battle at Antioch. See Review by Annis or More info at Amazon.com

Nonfiction:
Agincourt by Juliet Barker (2005), especially recommended by Bernard Cornwell. More info
Agincourt: A New History by Anne Curry (2000), also recommended by Bernard Cornwell. More info
The Face of Battle: A Study of Waterloo, Agincourt and The Somme by John Keegan (1976 and more recent editions), also recommended by Bernard Cornwell. More info

At the movies:
Henry V, Kenneth Branagh's outstanding 1989 film of Shakespeare's play about King Henry V and his victory at Agincourt. See listing at Amazon.com
Olivier's Shakespeare, a collection of classic films featuring Sir Laurence Olivier as Hamlet, Henry V and Richard III in adaptations from Shakespeare's plays. See listing at Amazon.com

Online:
Wikipedia article on the Battle of Agincourt



Back to Directory of Book Reviews

Back to Medieval: 14th and 15th Centuries