Durandal
by Harold Lamb
Reviewed by Annis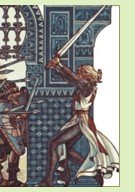 Durandal is a forgotten treasure; a classic of the pulp fiction era and a progenitor of the modern heroic fantasy genre. A dark and dramatic epic set in the thirteenth century, it's complex, original, and written in a vivid, cinematic style by a master craftsman. It's no surprise to discover that movie director Cecil B. de Mille recognized Lamb's talents and employed him as technical advisor and screenwriter for several de Mille productions.
Sir Hugh of Taranto is an idealistic young knight, part of a contingent of Frankish Crusaders supporting the Byzantine Emperor Theodore Lascaris against Islamic Turkish forces at Antioch. During the battle the Franks are callously betrayed by their allies. Only one survives slaughter by the Turks: Sir Hugh, saved from certain death by a mysterious warrior who bequeaths him Durandal, the legendary sword once owned by Charlemagne's paladin, Roland.
Vowing vengeance for his comrades and pursued by Imperial agents who want no living witnesses to the Emperor's perfidy, Sir Hugh's twisting and turning path leads him ever further East, through Syria and Persia into the Caucasus, where he is captured by Mongol tribesmen, outriders of Genghis Khan's army.
This is pure high adventure, full of action and intrigue, ringing with battle cries and clashing swords, and clearly in the tradition of nineteenth century authors like H. Rider Haggard, Sir Walter Scott and William Morris. It's no simplistic "Boy's Own" tale, though. There are no cardboard cutout villains inspired by xenophobia. The few women who appear are strong personalities, confident in their female power. Believable characters and settings both exotic yet realistic reflect Harold Lamb's extensive knowledge about the period and the peoples and places featured in Durandal.
In this more cynical age it's refreshing to read a story which unashamedly celebrates the virtues of honor, duty and loyalty, not confined to any one race or religion, and comradeship which transcends all cultural barriers. (1931, 370 pages)
More about Durandal from Amazon.com.
Note: The rare 1931 edition of Durandal consists of three novellas first published in "Adventure" magazine, linked by additional short stories into a complete tale. This 1931 edition is the only one which contains all the original material. The 1981 edition from publisher Donald M. Grant (beautifully illustrated by Alicia Austin and George Barr; see cover art above) includes only the first part of the 1931 novel. The sequel, Sea of Ravens
, about Hugh's adventures in the East, was published separately in 1983.

Nineteenth century historical high adventure/fantasy novels:
Ivanhoe by Sir Walter Scott (1820). More info
The Brethren by H. Rider Haggard (1915). More info
The Wood Beyond the World (1894) and The Well at the World's End (1896) by William Morris.

Novels set during the Crusades by an author inspired by Lamb's work:
Gates of Empire and other Tales of the Crusades by Robert E. Howard; contains eight stories set during the Crusades, some overlap with Lord of Samarkand (stories mostly published in the 1930s; published as a collection 2004). More info
Lord of Samarcand and other Adventure Tales of the Old Orient by Robert E. Howard; contains all of Howard's Oriental stories, some overlap with Gates of Empire (stories originally published in the 1930s; published as a collection 2005). More info

Nonfiction about the Crusades:
Crusader Warfare: Byzantium, Europe and the Struggle for the Holy Land 1050-1300 AD by David Nicolle (2007). More info
The Second Crusade: Extending the Frontiers of Christendom by Jonathan Phillips (2007). More info
The Oxford Illustrated History of the Crusades by Jonathan Riley-Smith (1995). More info
A New History of the Crusades by Christopher Tyerman (2006). More info

Online:
The Curved Saber, "the Official Harold Lamb Site"



Back to Medieval: Crusades

Back to Directory of Book Reviews