Yours Cheerfully
by AJ Pearce
Reviewed by Margaret Tomlinson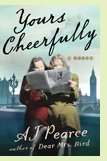 Yours Cheerfully, about a young employee of a women's magazine in WWII England, is a sequel to the delightful Dear Mrs. Bird. Charmingly humorous, but unflinching about the war's human tragedies, it follows the adventures of Emmy Lake as she grows into new responsibilities at Woman's Friend.
The magazine's content is relentlessly upbeat, especially after the Ministry of Information calls on the nation's women's magazines to encourage their readers to take factory jobs making munitions and other supplies for the war effort. Amid the dire threat to their country, neither Emmy nor the magazine's editor question the appropriateness of writing articles with this patriotic aim. Emmy is still mourning friends who died in the Blitz, and the man she loves serves in the military and could be called up to fight at any time.
But when her reporting reveals the extreme hardship of many of the women factory workers, Emmy is torn. She meets a war widow who no longer receives her husband's pay and must work to feed herself and her children, but cannot find reliable child care. The mission of Woman's Friend is to help women, but government bureaucrats and factory managers are focused simply on herding more women into factory work and are quick to condemn as unpatriotic those who are faced with financial stress, childcare dilemmas, and fear for loved ones in the military.
Although with Emmy's office antagonist gone from the scene, the tension in Yours Cheerfully may not be quite as sharp as in Dear Mrs. Bird, Emmy is as winning a heroine as ever. Women today also struggle with child care, financial stress, and threats to life and health; this story offers a heartening message of women's power to create change. (2021; 281 pages)
More about Yours Cheerfully
at Powell's Books or
The Book Depository
Other historical novels about British women during WWII:
Dear Mrs. Bird
by A.J. Pearce (2018), about a young London woman who takes a job with a newspaper during the Blitz and discovers it involves working for an unsympathetic advice columnist. See
review
or
more info at Powell's Books
The Lost Garden
by Helen Humphreys (2002), about a London woman who goes to the countryside during the Blitz to take charge of a crew of young women who will plant vegetables in the ruined gardens of an old country estate. See
review
or
more info at Powell's Books
Secrets of the Sewing Bee
by Kate Thompson (2016), about women working in a London factory making uniforms during WWII.
More info
Nonfiction about factory work during WWII:
Slacks and Calluses: Our Summer in a Bomber Factory
by Constance Bowman Reid (2004).
More info
Women of Steel: How Sheffield's Feisty Factory Sisters Helped Win the War
by Michelle Rawlins (2020).
More info
Back to WWII Europe Home Front
Back to Directory of Book Reviews