Yona Zeldis McDonough Interview
November 16, 2011
HistoricalNovels.info interviews
the author of The Cats in the Doll Shop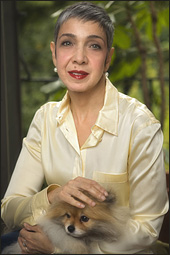 It was great to visit with Yona Zeldis McDonough on November 16, 2011. Yona is the author of the charming historical children's book The Cats in the Doll Shop, about a girl in 1915 who lives with her family above her parents' dollmaking shop.

The food in this story sounds delicious, from the corned beef and cabbage to the raisin cake. Do you like to cook?
I do, but I don't cook as much as I would like to - not enough time! I did, however, think readers would enjoy getting a sense of what the characters might be eating so I made a point of including descriptions of their meals and snacks. What characters eat reveals so much about them - who they are, where they are from, what they are like. The girls in The Cats in the Doll Shop eat the kinds of foods that were commonplace at the time, and they all love treats like candy, egg creams and chocolate. Tania lends another dimension to the eating theme. Because she has been deprived, she needs to horde food, even in a situation when she does in fact have enough.

Have you ever made a doll the way Anna does in the story?
No, I am terrible at things like that! I am, however, a huge doll collector. I loved dolls as a girl and still do. I collect only dolls that are old though - contemporary dolls hold little interest for me. I have bisque and china dolls, rag dolls, wooden dolls, as well as early plastic and composition dolls. I also have a fair number of vintage Barbie dolls; my daughter Kate likes them as much as I do. Kate shares my doll love: she's had American Girl dolls and Madame Alexander dolls too; it's the Madame Alexanders - which I coveted but never owned as a child - that were the basis of my inspiration for the first Doll Shop book, The Doll Shop Downstairs.

Little Plucky the kitten steals every scene he is in. Do you have cats?
I wish I did because I adore them. But I am, alas, highly allergic, so I have to confine myself to writing about them. I do, however, own a very cat-like dog named Queenie. She is a Pomeranian, and weighs about nine pounds. When she is content - in my arms or lap - she is prone to grunting, which is, I learned, a canine form of purring. So maybe she is a cat at heart.


---


Review of The Cats in the Doll Shop by Yona Zeldis McDonough
See listing for The Cats in the Doll Shop at Powell's Books
See listing for The Cats in the Doll Shop at Amazon.com