Woe to Live on

by

Daniel Woodrell
Reviewed by Annis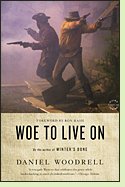 A coming-of-age story set during the American Civil War, Woe to Live On takes place on the Kansas-Missouri border. While the regular armies of North and South battle in the east, pro-Union Kansas Jayhawkers and secessionist Missouri Bushwhackers terrorize countryside already ravaged by internecine conflict long before the war officially began.
Sixteen-year-old Jake Roedel, the narrator, is German-American and an unlikely Bushwhacker. Black John Ambrose's mounted "irregulars" hate free blacks and Missouri's staunchly Unionist German immigrants with equal fervour, but Jake is tolerated as the boyhood friend of Jack Bull Chiles, son of old Southern gentry. Fuelled by rotgut, adrenaline and vengefulness of Old Testament ferocity, Ambrose's hit-and-run raiders leave a trail of death and destruction. "We made trash of men and places".
As the bitter war of attrition claims neighbours, friends and family, Jake acquires enemies within the band. Increasingly alienated, he forms a friendship with the gang's other outsider, Daniel Holt, a black freedman accompanying his former owner. Both are tied by unconditional personal loyalties to a cause inimical to them. Only once those old bonds are broken can they follow their own paths.
Jake's tale is punchy and largely dialogue-driven; classic tragedy superbly crafted in the vigorous, idiomatic style of nineteenth-century frontier literature. Righteousness is warped, mercy unrequited and innocence lost amid atrocity rendered commonplace: "A year earlier this would have sickened me beyond consolation for days. But we were hardened youths by that point. Warfare was what we knew".
Brutal yet poignant, ironic and spiked with earthy, irreverent humour, Woe to Live On is a potent brew of poetic lyricism and indiscriminate violence which peaks with the Lawrence Massacre. This is down-and-dirty civil war stripped of romanticism or sanity, but there remains an edgy, compelling brotherhood at its heart, and perhaps even hope for the future: "Our struggle had carried us into a new territory of the soul, where we found new versions of ourselves." (1987, 256 pages)
More about Woe to Live On at Powell's Books
,
Amazon.com
or
The Book Depository
Other Civil War novels:
Cold Mountain
by Charles Frazier (2006).
More info
Enemy Women
by Paulette Jiles (2002).
More info
Wildwood Boys
by James Carlos Blake (2001).
More info
Nonfiction about the Civil-War-era Kansas-Missouri border:
Bleeding Kansas: Contested Liberty in the Civil War Era
by Nicole Etcheson (2006).
More info
The Devil Knows How to Ride; The True Story of William Clarke Quantrill and his Confederate Raiders
by Edward E. Leslie (1998).
More info
Bloody Dawn: The Story of the Lawrence Massacre
by Thomas Goodrich (1992).
More info
Online:
America's Civil War: Missouri and Kansas
at HistoryNet.com
Quantrill's Raid on Lawrence
at the Kansas City Public Library website
At the Movies:
Ride with the Devil
(1999), director Ang Lee's excellent interpretation of Woodrell's
Woe To Live On
, starring Tobey Maguire as Jake Roedel.
Back to Novels of Nineteenth-Century America
Back to Directory of Book Reviews