With Fire and Sword

by Henryk Sienkiewicz
Reviewed by David Maclaine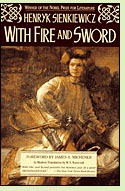 As you can guess by the title, With Fire and Sword is primarily a war novel, but most people will come to the novel with little or no knowledge of the ferocious struggle that takes place in its pages. I remember my own puzzlement decades ago when I first saw the film version of Taras Bulba with Tony Curtis and Yul Brynner, wondering why on earth Poles and Cossacks were fighting one another, a mystification that only increased when I read the original Gogol novella. It turns out that my historical education had skipped a couple of centuries during which Poland, having united its royal family with that of Lithuania, held a vast eastern realm including much of the current Belorus and Ukraine. Both the last chapter of Gogol's tale, and the whole of this novel by Sienkiewicz deal with the bloody convulsion that ensued in the mid-seventeenth century when Cossack subjects in the Ukraine rose up against their foreign overlords.
Sienkiewicz tells this compelling story from a generally Polish viewpoint, although important Cossack leaders also figure significantly and with some sympathy. At the heart of the story is a Polish officer who saves from lynching a Cossack who soon becomes the instigator of the great rebellion. Shortly thereafter that officer falls in love with a well-born Polish maiden, and in between battles the novel deals with their long separation, including the perils she faces in flight across a war-torn landscape. Enlivening the action are a memorable band of friends, a fierce little Polish officer, a freakishly powerful Lithuanian warrior hoping to fulfill an odd vow, and the delightful Falstaffian rogue Zagloba, a genial toper and braggart who occasionally stumbles into heroism. These vivid characters and the dramatic events of a crucial phase in Urkainian history keep With Fire and Sword worth reading more than a century after it was written. (1884, most editions in English translation run between 450-800 pages)
More about With Fire and Sword at Powell's Books
or
Amazon.com
Other historical novels set in Poland:
The Deluge
by Henryk Sienkiewicz (1886), about heroic Polish knights during a war between Poland and Sweden; #2 in the Polish trilogy, after
With Fire and Sword
.
More info
The Slave
by Isaac Bashevis Singer (1962), about a seventeenth-century Polish Jew forced into slavery after an uprising who regains his freedom and falls in love with a Christian.
More info
Taras Bulba
by Nicolai Gogol (1842), about a Cossack and his two sons who join the uprising against Poland.
More info
Nonfiction about the history of Poland:
Poland: A History
by Adam Zamoyski (2009).
More info
A Concise History of Poland
by Jerzy Lukowski (2nd ed., 2006).
More info
God's Playground: A History of Poland, Vol. 1: The Origins to 1795
by Norman Davies (1982).
More info
At the Movies:
With Fire and Sword
, the 1999 Polish film of Sienkiewicz's novel, in Polish with English subtitles.
Online:
The Cossack Rebellion
at YouTube
Back to Novels of the Seventeenth Century
Back to Directory of Book Reviews