The Witch of Blackbird Pond
by Elizabeth George Speare
Reviewed by Margaret Donsbach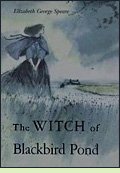 The Witch of Blackbird Pond is about a sixteen-year-old girl who has grown up on her grandfather's plantation in the Caribbean. When he dies in 1687, she discovers his property must be sold to pay his debts. She has no other relatives except an aunt who has married a Puritan in Colonial Connecticut. The story begins as she is aboard ship, having sold her slave girl to pay the passage, about to arrive unannounced on her aunt and uncle's doorstep.
Impulsive, warm-hearted and courageous, Kit Tyler is as out of place in chilly New England as a tropical bird of paradise. The austere, self-denying Puritans of Wethersfield misunderstand her generous impulses. It seems everything she does meets with shock and disapproval, even from the wealthy beau she attracts.
Homesick for Barbados and even for the ship captain's free-spirited son, she finds consolation in a few precious friendships, especially with an elderly woman, an outcast Quaker who lives in a small cottage by Blackbird Pond. It's dangerous, though, to make friends with the "witch" of Blackbird Pond. Kit's uncle warns her never to go there. Already, people are suspicious of Kit, and if she is accused and convicted of witchcraft, she could suffer the Puritans' severest punishment, death by hanging. But although she has made enemies, she has also made more and better friends than she realizes.
Kit's instinctive kindness will win readers' hearts. As her challenges keep mounting, readers will keep turning pages to find out what happens next. The Witch of Blackbird Pond is a lovely novel, as fresh and moving today as when it was first written. (1958; 223 pages)
More about The Witch of Blackbird Pond at Powell's Books or Amazon.com

Other YA novels set in Colonial New England:
The Sacrifice by Kathleen Benner Duble (2007), about a ten-year-old girl in Andover, Massachusetts, who is accused of witchcraft. More info
A Break With Charity by Ann Rinaldi (2003), about a girl in Salem, Massachusetts, who longs to join a group of girls who have excluded her, and then discovers they are falsely accusing women of being witches. More info
Witch Child by Celia Rees (2001), about a fourteen-year-old English girl who immigrates to Puritan New England after her grandmother is hanged as a witch. More info

Nonfiction about Colonial New England:
Witch Hunt: Mysteries of the Salem Witch Trials by Marc Aronson (2003), about the Salem witch persecutions; for teens. More info
Anne Hutchinson: Puritan Protester by Darlene R. Stille (2006), about a Puritan woman expelled from the Massachusetts Bay Colony for her unorthodox religious beliefs; for teens. More info
Connecticut: The History of Connecticut Colony by Roberta Wiener and James R. Arnold (2004), about Colonial Connecticut; for pre-teens. More info

Online:
Wethersfield, Connecticut at Wikipedia



Back to Young Adult Novels: 17th Century

Back to Directory of Book Reviews