The Winthrop Woman
by Anya Seton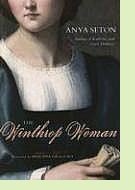 Anya Seton's meticulously researched biographical novel The Winthrop Woman is about Elizabeth Fones, the scandalous niece of John Winthrop, one of the Puritan founders and governors of the Massachusetts Bay Colony. Elizabeth migrated there with the Winthrop family in 1631 after the death of her first husband, John Winthrop's son Henry. The first third of the novel is devoted to Elizabeth's life in England, where the Puritans' evolving beliefs clashed with an earlier generation's more relaxed attitudes.
Seton portrays Elizabeth as a woman both sensual and intelligent whose impulsive human warmth often set her at loggerheads with her uncle and sometimes threatened her survival. These conflicts with her uncle form the spine of the story and her relationships with men its flesh and blood, but her brief encounter with religious dissenter Anne Hutchinson is The Winthrop Woman's heart:
"Anne put her head on one side, considering, and then she smiled. 'I do not believe He is ever wroth with those who love enough, for God is Love.'
"'I've never heard so,' cried Elizabeth, startled. 'Does it say so in Scriptures? I've heard that He is jealous, and a consuming fire, and almighty, and our salvation, but I never heard of love.'" (1958, 586 pages, with a historical note)
This is on my list of The Ten Best Historical Novels I Read in 2008.
More info on The Winthrop Woman from Powell's Books

Other novels about the Puritan migration to North America:
Strange Saint by Andrew Beahrs More info
I, Roger Williams by Mary Lee Settle More info


Nonfiction about John Winthrop and the Massachusetts Bay Colony:
John Winthrop: America's Forgotten Founding Father by Francis J. Bremer, 2003 More info
American Jezebel: The Uncommon Life of Ann Hutchinson, the Woman Who Defied the Puritans by Eve LaPlante, 2004 More info
The Wordy Shipmates by Sarah Vowell, 2008, about the conflicts of Puritans John Winthrop, Roger Williams and Anne Hutchinson in the Massachusetts Bay Colony. More info



Back to Novels of the Seventeenth Century

Back to Directory of Book Reviews