The Winter Prince
by Cheryl Sawyer
Reviewed by Margaret Donsbach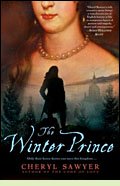 The "Winter Prince" is Prince Rupert of the Rhine, a German prince and a nephew of King Charles I of England. In 1642, as tensions rose between King Charles and Parliament which would lead to the English Civil War, twenty-three-year-old Rupert offered the king his assistance and was appointed to command the cavalry. His impetuous nature and military genius made him the hope of Royalists, but did not endear him to supporters of Parliament, who circulated pamphlets accusing him of wartime atrocities and of debauchery with Mary Villiers, Lady Richmond.
Mary is the heroine of The Winter Prince, a historical romance which imagines her as a woman of intelligence, social graces, wit and - above all - loyalty to family, friends and king. She respects her husband, but feels no passion for him. The day she encounters Prince Rupert again for the first time since childhood, she is dazzled, "absurdly overwhelmed from the moment he stepped from the ship ... like being suddenly drunk on one sip of wine." She and Rupert share a strong loyalty to the king and queen, but also an awareness that many of the king's decisions are ill-considered and counter-productive.
Although the novel follows Rupert's participation in the early battles of the Civil War, the battle scenes are less vividly drawn than Mary's scenes with her husband, the queen and, of course, Rupert himself. Mary struggles to subdue her yearning for Rupert and remain chaste, not only because of her religious feelings and to maintain her honor and self-respect, but also because she and her husband are part of the king's and queen's inner circle. An affair would undermine the monarchy and perhaps tip the balance against the king.
The portrayals of both Rupert and Mary seem romanticized, but The Winter Prince is, after all, a romantic novel. Lovers of historical romance may find too many battle scenes for their taste, but Mary's quest to win a measure of happiness while remaining true to her ideals will warm hearts. (2007; 384 pages, including a Historical Note)
More about The Winter Prince at Powell's Books or Amazon.com

Other novels featuring Prince Rupert: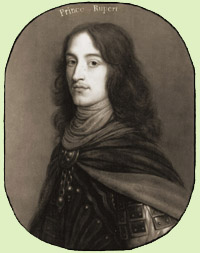 The Stranger Prince by Margaret Irwin (1937), a biographical novel about Prince Rupert. More info
A Midsummer Tempest by Poul Anderson (1974), alternative history in which Prince Rupert is instrumental in defeating Cromwell and winning the English Civil War for the Royalists. More info
The Oak Apple by Cynthia Harrod-Eagles (1982), #4 in the Morland Dynasty series. More info

Nonfiction about Prince Rupert:
Warrior Prince: The Life of Prince Rupert of the Rhine by George Malcolm Thomson (1976). More info
Prince of Cavaliers: The Story of the Life and Campaigns of Prince Rupert of the Rhine by Frank Knight (1967). More info

Online:
"Prince Rupert of the Rhine and Boy," about Rupert's white poodle.



Back to Novels of the Seventeenth Century

Back to Directory of Book Reviews