The Winter Palace
by Eva Stachniak
Reviewed by Margaret Donsbach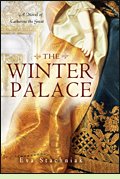 The Winter Palace focuses primarily on the years between 1743, when the future Catherine the Great arrived in Russia from her German homeland, and the 1762 coup that made her Empress. For Catherine, they were years of suffering. Misrule by the vain, sexually voracious Empress Elizabeth exacerbated the vicious politics of the Russian court. Catherine's husband, the mentally impaired heir Grand Duke Peter, was a petulant child-man who required constant appeasing.
Varvara, the fictional main character, is the orphaned daughter of a bookbinder. Taken under Empress Elizabeth's protection at a whim, Varvara is trained as a "tongue," a spy, by Elizabeth's Chancellor Alexei Bestuzhev. His sexual exploitation of Varvara is only a prelude to a more sinister and damaging exploitation of the spirit. "The Empress wants her stories, and I want mine," Bestuzhev tells her. "I protect, provide. You listen and obey. You are my eyes and ears, too. Keep them open. Lie to anyone, but never to me."
As Varvara spies on the friendless young German princess, still known as Sophie in the days before her marriage, she can't stop herself from wishing to help the girl. Encouraged by the Empress and Bestuzhev to play the role of trusted friend, Varvara becomes a friend in earnest. While Empress Elizabeth dies by increments, all too slowly, Varvara plays a dangerous double role, feeding her sponsors information about Catherine, but offering Catherine crucial tidbits that will help her successfully navigate the Russian court's treacherous currents.
Both Varvara and Catherine will win readers' hearts. Catherine is portrayed with such sympathy, despite her ambition, that the extended period mid-novel when Varvara is obliged to keep her distance can feel frustrating, especially when dramatic events swirling around Catherine must be told at second hand. In compensation, Varvara gives readers an often shocking close-up view of Empress Elizabeth and her courtiers during a period when Catherine lived in isolation. The Winter Palace offers a worthwhile introduction to a fascinating period in Russian history. (2012; 434 pages, including a list of historical characters)
More about The Winter Palace at Powell's Books, Amazon.com
or The Book Depository
Interview with author Eva Stachniak

Other novels about Catherine the Great:
Imperial Highness by Evelyn Anthony (originally published in 1953 as Rebel Princess), about Catherine the Great's rise to become Empress of Russia; #1 in the Romanov trilogy. More info
The Star of the North by Helene Lehr (1990). More info
The Shadow of Tyburn Tree by Dennis Wheatley (1948), about a British spy sent to Russia in 1788, who finds himself in a risky situation when Catherine the Great chooses him to be her lover; #2 in the Roger Brook series. More info

Nonfiction about Catherine the Great:
Catherine the Great: Love, Sex and Power by Virginia Rounding (2008). More info
Catherine the Great by Simon Dixon (2001). More info
Catherine the Great: Life and Legend by John T. Alexander (1988). More info
Catherine the Great: A Short History by Isabel de Madariaga (1993). More info

Online:
Catherine II at the Alexander Palace Time Machine website



Back to Novels of the Eighteenth Century

Back to Directory of Book Reviews