Wide Sargasso Sea

by Jean Rhys

Reviewed by Margaret Donsbach Tomlinson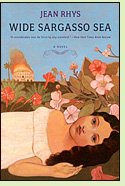 Wide Sargasso Sea takes a character from Charlotte Brontë's classic novel Jane Eyre - the first wife Mr. Rochester's father pressured him into marrying - and imagines her life in Jamaica. In 1833, slavery was abolished in Britain and its Caribbean territories. Antoinette Cosway grows up as a white Creole whose wealthy family has lost its position in society with the loss of its slaves. Black Jamaicans taunt her as a "white cockroach," and she is both resented and cared for by a handful of black Jamaicans who stay on with her widowed mother, beautiful, thoughtless and mentally frail. The mother marries a second time to a man who sends Antoinette away to be raised in a convent.
Wide Sargasso Sea is an intensely atmospheric novel, almost Gothic in its sense of impending catastrophe, but Antoinette is not so much trapped in a house full of dark secrets as on an island full of dark secrets, which is almost oppressive in its overgrown tropical splendor. Like Jane in Jane Eyre, Antoinette is a victimized child. Unlike Jane, she does not have the intelligence or strength of will as an adult to escape further victimization. The two novels diverge so widely in setting, style and theme that, although it's interesting to compare them, Wide Sargasso Sea stands alone and does not in the least require readers to have read Jane Eyre in order to follow the story. In fact, readers charmed by Jane Eyre may find the sparer, more impressionistic style of Wide Sargasso Sea and the bleak incapacity of its central character hard to appreciate. Mr. Rochester certainly has his character flaws in Jane Eyre, but here he has few compensating virtues. Readers looking for a rich historical atmosphere will find Wide Sargasso Sea a masterful portrayal of a tropical island in which the power structure has suddenly been upended, leaving simmering conflict in its wake. (1966; most editions between 150 and 175 pages)
More about Wide Sargasso Sea at Powell's Books
,
Amazon.com
or
The Book Depository
Other novels set in the Caribbean:
The Long Song
by Andrea Levy (2010), about a woman born into slavery on a Jamaican sugar plantation who lives to see slavery abolished.
More info
All Souls' Rising
by Madison Smartt Bell (1995), about Toussaint Louverture and the 1791-1803 Haitian Revolution; #1 in the Haitian Slave trilogy.
More info
The Farming of Bones
by Edwidge Danticat (1998), about the systematic murder of Haitians in the Dominican Republic during the 1930s.
More info
Nonfiction about the history of Jamaica:
Jamaica in Slavery and Freedom: History, Heritage and Culture
, edited by Kathleen Monteith and Glen Richards (2002).
More info
Fight for Freedom: The Destruction of Slavery in Jamaica
by Carey Robinson (2007).
More info
The Story of the Jamaican People
by Philip Sherlock and Hazel Bennett (1997).
More info
At the Movies:
Wide Sargasso Sea
, the 2006 BBC adaptation of Jean Rhys's novel, directed by Brendan Maher and starring Rafe Spall and Rebecca Hall; generally considered to be more faithful to the novel than the 1993 Australian film.
Online:
Caribbean Histories Revealed: Slavery and negotiating freedom
at the UK National Archives website
Back to Historical Novels of the Caribbean
Back to Directory of Book Reviews