Why the Whales Came
by Michael Morpurgo
Reviewed by Margaret Donsbach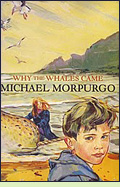 Why the Whales Came is about ten-year-old Gracie Jenkins, who lives on Bryher, a small island off the western coast of Britain, in the year 1914. "You keep away from the Birdman," Gracie's father warns her. The Birdman lives alone in a cottage that stands all by itself on a hill in the south part of the island. Gracie's father knows stories about him that he thinks are too horrible to tell her. The Birdman used to live on Samson Island, which people say has a curse on it.
Gracie and her friend Daniel have a fleet of toy boats they have made. When the lake where they usually sail the boats is taken over by bad-tempered swans, Daniel talks Gracie into coming with him to a cove near the Birdman's cottage. She's scared, but she finally agrees. Soon they find themselves on the most frightening adventure of their lives.
The whales in the novel are narwhals, a type of whale with a long, spiraling horn on the front of its head. In their adventure, Gracie and Daniel find a narwhal's horn. Later, they have to decide whether to help a stranded narwhal.
This novel was originally written for British children, so Americans will find unfamiliar words in it. Also, the first few pages are full of unusual place names. A map of the Isles of Scilly near the front of the book will help readers keep track of the bays, hills and islands mentioned in the story. Readers will especially enjoy Why the Whales Came if they like stories about children who lived in times and places where they were allowed to roam and explore without adult supervision. (1985; 139 pages. Recommended for ages 8-12)
More about Why the Whales Came at Powell's Books or Amazon.com

Other novels about people living on islands or by the sea:
Voyage with Jason by Ken Catran (2000), about a boy in ancient Greece who gets the chance to sail on the quest for the Golden Fleece. Recommended for ages 9-12. More info
Betsy and the Emperor by Staton Rabin (2004), about a fourteen-year-old English girl living on the Isle of St. Helena when Napoleon is sent there as a prisoner. Recommended for ages 10-14. More info
Once on this Island by Gloria Whelan (1995), about a twelve-year-old farm girl on Mackinac Island, Michigan, which is occupied by the British during the War of 1812; #1 in the Island series. Recommended for ages 8-12. More info

Nonfiction about narwhals and other sea creatures:
Narwhal: Unicorn of the Sea by Janet Halfmann (2008), for ages 4-8. More info
Extremely Weird Sea Creatures by Sarah Lovett (1994), for ages 9-12. More info
National Audubon Society Guide to Marine Mammals of the World by Randall R. Reeves, Brent S. Stewart, Phillip J. Clapham and James A. Powell (2002), for teens and adults. More info

At the Movies:
When the Whales Came
, a 1989 film of Why the Whales Came starring Paul Scofield and Helen Mirren. A beautiful movie, but currently available (as of April 2011) on VHS only.

Online:
www.narwhal.info, a site about narwhals that includes an amazing clip from a National Geographic video showing a pod of narwhals in the Arctic.



Back to YA Early Twentieth Century

Back to Directory of Book Reviews