The White Princess

by Philippa Gregory

Reviewed by Margaret Donsbach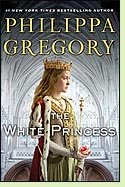 The White Princess is about Elizabeth of York, the eldest sister of the unfortunate "Princes in the Tower" who disappeared during Richard III's reign and were probably murdered - whether on Richard's orders or someone else's remains unknown. After the death of King Richard's wife, rumors surfaced that he had planned to marry Elizabeth. Philippa Gregory is not the first novelist to speculate that she may have been in love with him.
In this novel, Elizabeth is grieving Richard's death in battle when she marries the man responsible for his death, Henry VII, the first Tudor king. Uncertainty over what happened to her brothers haunts the novel. Gregory's previous novel The White Queen, about Elizabeth's mother, suggests that at least one of the young princes may have survived. Henry's reign was, in fact, plagued by rebellions seeking to replace him with one pretender or another who claimed to be one of Elizabeth's brothers, and the novel vividly evokes the precarious, suspicion-laden atmosphere of Henry's reign. Pushed to the throne by his ambitious mother, Henry is a weak king whose efforts to tighten his grip on power turn his subjects against him. Elizabeth must placate him even though she realizes he may have ordered her brothers killed. She must appear confident of his right to the throne even while her mother plots with rebels and she herself wonders whether one of the pretenders may be a brother she has never stopped loving.
The novel might have been shorter and more gripping without its frequent repetitious passages. Elizabeth's emotions are pulled in contrary directions as she develops affection for a husband whose behavior ranges from cruel to inconsiderate; perhaps the repetitions are designed to bolster a story that sometimes challenges credibility. Regardless, The White Princess offers a fascinating perspective on a royal couple who faced more severe marital challenges than the average royal couple even in an era of political marriages. (2013, 528 pages, including an Author's Note about the history behind the story and a Bibliography)
More about The White Princess at Powell's Books
or
Amazon.com
Other novels about Elizabeth of York:
The Tudor Rose
by Margaret Campbell Barnes (1953).
More info
Elizabeth the Beloved
by Maureen Peters (1965), another novel which portrays Elizabeth falling in love with Richard III.
More info
Uneasy Lies the Head
, most recently titled
To Hold the Crown
, by Jean Plaidy (1982), about Elizabeth and Henry VII.
More info
Nonfiction about Elizabeth of York and Perkin Warbeck:
Elizabeth of York: Queenship and Power
by Arlene Naylor Okerlund (2009).
More info
Elizabeth of York: The Mother of Henry VIII
by Nancy Lenz Harvey (1973).
More info
The Perfect Prince: The Mystery of Perkin Warbeck and his Quest for the Throne of England
by Ann Wroe (2003).
More info
Online:
Henry VII and Elizabeth of York
at the website of Westminster Abbey, where the two are buried
Back to Novels of the Renaissance

Back to Directory of Book Reviews