The Whistling Season

by Ivan Doig

Reviewed by Margaret Tomlinson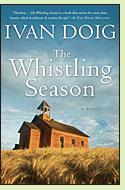 In The Whistling Season, after an administrator is charged with telling people in the Montana school system that their rural one-room schoolhouses will be closed, he recalls his childhood as a student in one of those schoolhouses. In 1909, Paul's mother has been dead for a year. The cabin where Paul's father and the three brothers live has fallen into a state of disarray. They find their housekeeper, Rose, through a newspaper ad, a charming and determined woman who whistles as she works, making a sound "just above silence. A least little tingle of air, the lightest music that could pass through lips, yet with a lingering quality that was inescapable." On arrival, Rose introduces an unexpected sidekick, her brother Morris, a man of impressive erudition and mysterious lack of credentials. Despite the latter, when the schoolteacher abruptly departs mid-year, Morris is hired to take her place.
As charming a novel as Rose and Morris are characters, The Whistling Season portrays an early twentieth-century Montana farming community from the perspective of a bright thirteen-year-old. Old enough to see the flaws in his father's sometimes-impractical ideas, Paul is too young to veto them and impulsive enough to get into some daredevil scrapes, like a backwards-in-the-saddle horse race. The novel is lively and entertaining, the author's affection for his characters so rich that readers will find they can muster sympathy, in the end, even for the hapless and violent Turley family. If what holds the novel together is its portrayal of the one-room schoolhouse as the heart of a rural community, what will keep readers turning its pages is the portrayal of its real-as-life characters. (2006, 345 pages)
More about The Whistling Season at Powell's Books
or
Amazon.com
Other novels set in rural farming communities:
Plague of Doves
by Louise Erdrich (2008), about a 1911 murder of a rural family in North Dakota for which three innocent Ojibwe were blamed and lynched, and its effect on the nearby town's residents into the 1970s. See
review
or
more info at Powell's Books
Percival's Planet
by Michael Byers (2010), about the Kansas farm boy who joins the search for "Planet X" in 1928 and discovers Pluto. See
review
or
more info at Powell's Books
Burial Rites
by Hannah Kent (2013), about Agnes Magnúsdóttir, convicted of murder in 1828 Iceland and held over the winter on the farm of the district officer, a relation of one of the murdered men. See
review
or
more info at Powell's Books
Nonfiction about one-room schoolhouses:
Visions and Voices: Montana's One-Room Schoolhouses
by Charlotte Caldwell (2012).
More info
Boarding Round: The Life of a Teacher in the 19th Century
by Michael S. Day (2012).
More info
Back to 20th Century America Before the Wars
Back to Directory of Book Reviews