Where Shadows Dance
by C.S. Harris
Reviewed by Margaret Donsbach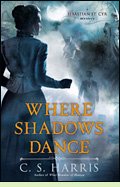 Sixth in the Sebastian St. Cyr mystery series, Where Shadows Dance finds Sebastian, Viscount Devlin, upset by a recent revelation about his parentage. In the first mystery, What Angels Fear, Sebastian was himself accused of murder. His skill at ferreting out the actual culprit has led to a series of unofficial investigations within the space of less than two years. Besides his keen intelligence, Sebastian's advantages as a sleuth include exceptional hearing and "strange yellow eyes wth an unnatural ability to see clearly at great distances or at night, when reality was reduced for most men to vague shadows of gray."
One of Sebastian's friends, a teaching surgeon who pays "resurrectionists" to dig up bodies for him to study, is in a bind. Dissecting the corpse of an otherwise healthy young man supposed to have died of a heart defect, he discovers a more sinister cause of death which he feels duty-bound to report. Body-snatching is illegal, so instead of informing the authorities, he asks Sebastian to investigate. Unfortunately, Sebastian's inquiries keep bumping up against government secrets.
It is the summer of 1912. With Napoleon embarking on his Russian campaign, Russia is pressuring Britain to send troops to its aid. Already fighting Napoleon in Spain and involved in an intricate series of alliances and "paper wars," plus the prospect of active hostilities breaking out in America, the British government has its hands full. Secrecy is crucial as it tries to keep a variety of players happy.
Meanwhile, a romantic entanglement formed during Sebastian's previous investigation both complicates and aids his quest. As dangers mount in the mystery's final chapters, Miss Hero Jarvis, the independent and strong-willed daughter of Sebastian's enemy, steals the show.
The complicated historical background of Where Shadows Dance is well researched, if sometimes hard to follow. Readers may have to suspend disbelief to accept the larger-than-life main characters; their attitudes are unorthodox for the Regency period, but thrillingly so. (2011; 342 pages, including an Author's Note separating history from fiction)
More about Where Shadows Dance at Powell's Books or Amazon.com

Other mysteries set in Regency England:
What Angels Fear by C.S. Harris (2005), #1 in the Sebastian St. Cyr mystery series. More info
Jane and the Unpleasantness at Scargrave Manor by Stephanie Barron (1996), first in the Jane Austen mystery series, featuring a fictional Jane Austen as sleuth. More info
The Bride of Newgate by John Dickson Carr (1950), a locked-room mystery about a woman who, to gain an inheritance, marries a convict scheduled to be hanged an hour later. See Review or More info at Amazon.com

Nonfiction about the wars being fought in 1812:
Moscow 1812: Napoleon's Fatal March by Adam Zamoyski (2004). More info
1812: War with America by Jon Latimer (2007). More info
The Spanish Ulcer: A History of the Peninsular War by David Gates (1986). More info

Online:
Anglo-Swedish War, a Wikipedia article about the "paper war" between England and Sweden



Back to Novels of Nineteenth-Century Europe

Back to Directory of Book Reviews