When the Eagle Hunts

by Simon Scarrow

Reviewed by David Maclaine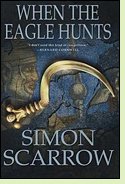 When the Eagle Hunts is the third in Simon Scarrow's "Eagle" series, military novels tracing the adventures of two soldiers in Rome's Second Legion. At this stage, the pair is still part of the invasion force attempting to complete the conquest of Britain under their commanding officer, a loyal, competent leader named Vespasian. Complicating their intended mission, to strike westward to subdue a recalcitrant tribe, is the capture of Vespasian's own commander's wife. Guess who find themselves enlisted on a dangerous rescue mission behind enemy lines, risking torture and death at the hands of fanatical Druids? Okay, that part isn't so hard, but you may be surprised by the names of the British guides our heroes Macro and Cato depend upon to wend their way through a strange landscape and culture. One is a local woman who has sometimes kept company with Macro, another is her intended husband. Their names, Boudica and Prasutagus, like that of Vespasian, will loom large in later history.
As always with Scarrow, When the Eagle Hunts provides well-crafted action entertainment with period detail that seems convincing. He does, it is true, fail Harry Sidebottom's "litmus test of the under-researched historical novel" by including a brief, gratuitous mention of galley slaves, but that's the only area that gave me pause. While the details of Celtic culture and religion Scarrows offers here are undoubtedly his own interpretations of evidence and open to scholarly dispute, nothing besides those fictitious oarsmen strikes a jarring note. What we get are the moral and practical dilemmas, the false trails and lucky hunches you'd expect on a quest through enemy territory, with the final pay-off being one of Scarrow's skillfully described battle scenes. Along the way, Scarrow also fills in some important details about the complexities of the island Rome aims to bring into its empire. (2002, 274 pages)
More about When the Eagle Hunts at Powell's Books
or
Amazon.com
When the Eagle Hunts
appears on the list of
The 50 Best Historical Novels for a Survey of Ancient Roman History
Other novels about Romans in Britain:
Under the Eagle
by Simon Scarrow (2001), #1 in the Eagle series. See
review
or
more info at Powell's Books
Imperial Governor
by George Shipway (1968), about the first century rebellion of Queen Boudica, from the perspective of the Roman Governor of Britain. See
review
or
more info at Powell's Books
Hadrian's Wall
by William Dietrich (1993), about a Roman soldier posted at Hadrian's Wall.
More info
Nonfiction about the Roman conquest of Britain:
The Roman Invasion of Britain
by Graham Webster (revised edition, 1993).
More info
Invasion: The Roman Conquest of Britain
by John Peddie (1987).
More info
The Coming of Rome
by John Wacher (1979).
More info
Online:
The Roman Invasion of Britain
at the Smithsonian channel website

Back to Novels of Ancient History

Back to Directory of Book Reviews