What Is Left the Daughter
by Howard Norman
Reviewed by Margaret Donsbach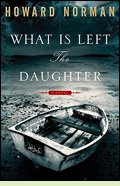 What Is Left the Daughter is narrated by a man writing to the grown daughter he has not seen since she was a small child. He begins with the day in 1941 when both his parents killed themselves by jumping from bridges. Wyatt was seventeen. He moved in with his aunt and uncle in a tiny Nova Scotia town, where he promptly fell in love with his cousin. "I stared at Tilda, and she stared right back and held her stare. She looked ravishing." So ravishing, that when Aunt Constance walks in, Wyatt tells her, "I just came in out of the cold rain into this warm kitchen," although, as his aunt comments, "it's not raining out."
Actually, Tilda is not particularly warm. Like most of the town's inhabitants, she is bracingly direct, with an acerbic sense of humor and a determination to live as she chooses. She soon falls in love with the most inappropriate candidate possible in the seething atmosphere at the start of World War II: a German student. She meets him on the bus while returning from a session with a hypnotist which, contrary to her parents' hopes, has confirmed her decision to become a professional mourner.
Comedy and tragedy walk hand-in-hand in this novel, full of sharp dialogue and poignant emotions, though the visual descriptions of the central characters are too vague and slippery to evoke them as physical presences. What Is Left the Daughter stresses the catastrophic nature of war and the terrible folly of judging people by superficial associations, but only as a side-theme in a more complex tale. In contrast to the other characters, Wyatt takes an essentially passive approach to life which appears to be gracious, perhaps even admirably selfless, until events come to a head. If this makes him a less-than-dynamic central character, it is nevertheless crucial to the theme and balanced by the dynamism of the other characters in a story full of dramatic twists and turns. (2010; 243 pages)
More about What Is Left the Daughter at Powell's Books or Amazon.com
Interview with author Howard Norman

Other novels set in Nova Scotia:
Burden of Desire by Robert MacNeil (1992), about a clergyman searching for a woman who lost a sexually revealing diary in the wreckage of the munitions ship that blew up in Halifax, Nova Scotia, during World War I. More info
Fall on Your Knees by Ann-Marie MacDonald (2002), a darkly comic saga of a dysfunctional family centering on four sisters from Cape Breton Island during the first half of the twentieth century. More info
Rockbound by Frank Parker Day (1928), about a young man living on a small island off the coast of Nova Scotia in the early 1900s. More info

Nonfiction about the Atlantic coast of Canada during World War II:
Victory in the St. Lawrence: The Unknown U-Boat War by James W. Essex (1984). More info
U-Boats Against Canada: German Submarines in Canadian Waters by Michael L. Hadley (1985). More info
Night of the Caribou by Douglas How (1988), about the sinking of a passenger ferry off the coast of Newfoundland by a German U-boat during World War II. More info

Online:
Sinking of the Caribou, about the sinking of a passenger ferry off the coast of Newfoundland by a German U-boat during World War II.



Back to World War II Home Front in North America

Back to Directory of Book Reviews