What Alice Knew
by Paula Marantz Cohen
Reviewed by Margaret Donsbach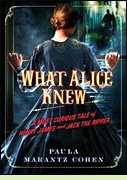 What Alice Knew adds another novel to the Jack the Ripper canon. In 1888, someone murdered five prostitutes in London's poverty-plagued East End. The gruesome nature of the murders, in which the victim's throats were cut and their abdomens ripped open, riveted public attention on the search for the killer, who was never found. This new Ripper mystery imagines that pioneering American psychologist William James, his novelist brother Henry, and their invalid sister Alice collaborated in the investigation and discovered the killer's identity.
The novel offers a darkly humorous exploration of relations among the James siblings and of Henry's London social milieu, which included eccentric luminaries like playwright Oscar Wilde and painter John Singer Sargent. It seriously explores one possible suspect: painter Walter Sickert. A student of James Whistler, Sickert favored somber subjects. The murder of a prostitute in 1907 captured his artistic imagination, and the titles and subject matter of some of his works refer to this murder.
Any novel about the Ripper must deal with his stomach-turningly gory murders, but this one creates some distance from the butchery by focusing on the reactions of a witness with a philosophical turn of mind. Shocked by a murder site "awash in blood," William James retreats into scientific reflection, wondering "how much blood was needed to produce such an effect, perhaps less than appeared by virtue of spattering and seeping. Painters diluted their paint and used quite a little to cover large canvases; they made washes that could stretch for, really, miles."
What Alice Knew will likely appeal more to readers interested in life on the fringes of Victorian society than to hard-core mystery fans. Every character is a misfit. Expatriate Henry James yearns to bury his emotions by adopting a stuffy English correctness that his English friends, in fact, do not display. Sargent and Sickert unload their emotions onto canvas. Alice embraces her sickbed. Is the Ripper's madness only an extreme case of the madness of everyday life? (2010; 341 pages)
More about What Alice Knew at Powell's Books or Amazon.com
Interview with author Paula Marantz Cohen

Other Ripper-related mysteries:
The Private Life of Jack the Ripper by Richard Gordon (1980), a Ripper mystery which focuses on the medical angle to the investigation. More info
Dan Leno and the Limehouse Murders by Peter Ackroyd (1994) borrows the historical music hall comedian Dan Leno as a suspect in a fictional series of Ripper-like killings in 1880 London. More info
Pentecost Alley by Anne Perry (1996) is #16 in the Thomas Pitt mystery series, in which Pitt investigates a murder just two years after the Ripper killings, when they are fresh in the public's mind. More info

Nonfiction about Jack the Ripper:
Portrait of a Killer: Jack the Ripper, Case Closed by Patricia Cornwell (2002) explores her theory that artist Walter Sickert was Jack the Ripper. More info
Jack the Ripper: The Definitive History by Paul Begg (2002) is a historical study of the Ripper murders rather than an attempt to identify the killer. More info
The Complete History of Jack the Ripper by Philip Sugden (1994; revised and updated edition 2002) is a historical study of the Ripper murders that suggests a tentative solution to the killer's identity. More info

At the Movies:
From Hell
, a 2001 movie about the Ripper case featuring Johnny Depp as real-life investigator Fred Abberline.
Jack the Ripper
, a 1988 television mini-series featuring Michael Caine as Abberline.

Online:
Casebook: Jack the Ripper, an extensive website devoted to the Jack the Ripper case.



Back to Historical Novels: 19th Century Europe

Back to Directory of Book Reviews