The Wet Nurse's Tale
by Erica Eisdorfer
Reviewed by Margaret Donsbach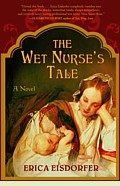 The Wet Nurse's Tale is the wonderfully engaging story of a young woman of the servant class in Victorian England. Susan Rose is fat and as plain as she is plain-spoken. Comparing her face with that of her prettier sister's, she says, "there was mine, like it somewhat, only as if one hundred wasps had stung me and lumped me up."
She's a bit of a schemer: "I had hidden some money from my father out of each month's pay as who would not?" She's a bit of a liar: "The truth, I thought to myself, as my brain worked at what to leave out, is a very good thing, but only if it steers you in the right direction." She knows her Bible stories: "'Tis like the story of David and Bathsheba: David had plenty of wives while Uriah had but one and that's the one David wanted so he took her." And she's so full of pluck and heart and insight that it would be a cold reader who doesn't wish her all the happiness in the world.
After Susan becomes pregnant by the son of the local squire and loses her job, she takes up her mother's profession of wet nurse. Interspersed with Susan's story are brief chapters narrated by women, as varied and individual as the lower-class characters, who sent their babies to nurse with Susan's mother. Some of their tales are heartbreaking. But the novel belongs to Susan. Forced to part from her own child so she can earn money nursing other women's babies, her plight recalls stories of slavery in the American South.
While The Wet Nurse's Tale is a literary novel in its depth and authenticity, it's also a page-turner, building to a pitch of dramatic suspense worthy of Charles Dickens at his best. (2009, 219 pages)
The Wet Nurse's Tale is on my "Best Historical Novels I Read in 2009" list.
More about The Wet Nurse's Tale at Powell's Books
Interview with Erica Eisdorfer

Other novels about lower class women in Victorian England:
The Dark Lantern by Gerri Brightwell (2008), about a housemaid who must conceal the fact that her mother was hanged as a murderess in order to retain her employment. More info
The Observations by Jane Harris (2006), about a Scottish housemaid and her peculiar employer. More info
Lady's Maid by Margaret Forster (1991), about the lady's maid to the invalid poetess Elizabeth Barrett Browning. More info

Nonfiction about wet nurses:
Wet Nursing: A History from Antiquity to the Present by Valerie Fildes. More info
Breasts, Bottles and Babies: A History of Infant Feeding by Valerie Fildes (1985). More info

Online:
Wikipedia article, Wet Nurse
Article in The Guardian about modern-day cross-nursing



Back to Historical Novels: 19th Century Europe

Back to Directory of Book Reviews