Wandering Star
by J.M.G. Le Clézio
Reviewed by Margaret Donsbach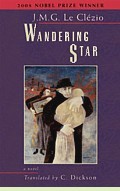 When we meet the central character in Wandering Star, she is a girl in the early stages of becoming a woman. She lives near the Italian border in a French village occupied by Italy during World War II. In private, her father calls her Esther, sometimes Estrellita, "little star." In public and among her friends, she is called Hélène. Though her parents are not religious, she is drawn to the services other Jews attend. "Inside the room, the alternating voices made a sound like the wind, or the rain, that slowly died away, then rose again, echoing loudly off the too narrow walls, made the flames of the candles flicker."
Esther loves her village and its fragile pleasures: the music old Mr. Ferne plays on his piano; a high field full of viper grass where she strolls with the young maquisard Mario, who knows how to call snakes; the beautiful red hair of her friend Rachel, whom others despise for keeping company with an Italian soldier. Then the Jews must leave in a sudden, desperate hurry before the Germans arrive. But to where? They are at home nowhere. Esther's wanderings, losses and uncertainties do not end when she reaches Israel, where she briefly crosses paths with a Palestinian girl displaced by the influx of Jews.
Because Esther has little control over the major events of her life, whether disasters or rescues, Wandering Star is less about what she does than about her perceptions, feelings and insights. For a few chapters near the end, the novel shifts to the parallel perspective of the Palestinian girl Nejma, living precariously in a refugee camp where she struggles to survive and reach for a measure of happiness.
Le Clézio won the 2008 Nobel Prize in Literature. Wandering Star is one of his most readily available works in English translation. (first published in French 1992; English translation by C. Dickson 2004, 316 pages)
More about Wandering Star at Powell's Books

Other historical novels by Le Clézio available in English translation:
The Prospector (first French edition 1985; English translation 1993), about a boy who grows up on Mauritius at the end of the nineteenth century and, as a man, adopts his lost father's quest to find the treasure of the "Unknown Corsair" on the nearby island of Rodrigues. More info
Desert (first French edition 1980; English translation available June 2009), about a small boy growing up in Morocco during the 1910-1912 uprising against the French and an older girl from the Moroccan coast in the years after World War II. More info

Nonfiction about Italian-occupied France during World War II:
Holocaust Odysseys: The Jews of Saint-Martin-Vesubie and Their Flight Through France and Italy by Dr. Susan Zuccotti (2007), about the history behind the fictional Esther's experiences in Wandering Star. More info

Online:
An interview with Le Clézio at the France Diplomatie website



Back to Novels of World War II

Back to Directory of Book Reviews