The Wages of Desire
by Stephen Kelly
Reviewed by Margaret Tomlinson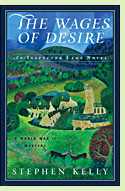 The Wages of Desire is second in a new mystery series set in rural England during World War II. It features middle-aged police detective Thomas Lamb and his nineteen-year-old daughter Vera, who is considering volunteering as an auxiliary in the armed forces. She easily persuades her father to let her help out as a driver; the police department is short-handed because so many young men are fighting overseas; some of the few left feel defensive about their deferments and wonder whether they, too, should sign up.
Murders at home still need to be investigated, though. A young woman, one of the conscripted "conshi" workers - conscientious objectors - helping to build a prisoner-of-war camp near a small village in Hampshire is found shot to death in the cemetery. Readers soon learn - before Lamb does - that the vicar and his wife are hardly paragons of charity and kindness, and they know more about the murder than they are letting on. Shortly afterward, work at the camp turns up a child's body. It may be related to a twenty-year-old tragedy which, in turn, may or may not be related to the conshi's murder.
Characters and setting feel real, and the prose style is solid. The claustrophobic atmosphere of a country at war is well portrayed. The story never really catches fire, though. If readers can't guess who did the murder, they also may not feel as mystified as they might like. The story lacks the startling twists that could add suspense, and Lamb is missing the drive and passion that could also help make the mystery more compelling. These are not severe flaws, and readers who enjoyed the previous Lamb mystery, will likely find The Wages of Desire worthwhile, but it may not be the best one to start with. (2016, 313 pages)
More about The Wages of Desire at Powell's Books
or
Amazon.com
Other mysteries set during WWII:
Lying with the Enemy
by Tim Binding (1999), ), about a police inspector on Guernsey Island investigating the murder of a woman he had been fond of who had been having an affair with the commander of the German occupying forces.
More info
Sweet Poison
by David Roberts (1960), about a British nobleman and a woman journalist who team up to investigate the death of a distinguished general opposed to England's policy of accommodating Germany during the rise of the Nazis; #1 in the Lord Edward Corinth and Verity Brown mystery series.
More info
The Warsaw Anagrams
by Richard Zimler (2011), about a psychiatrist in Nazi-occupied Warsaw in 1940 who tries to find out who murdered his nephew and why.
More info
Nonfiction about conscientious objectors during WWII:
We Will Not Go to War: Conscientious Objection During the World Wars
by Felicity Goodall (2011).
More info
Conscientious Objectors of the Second World War: Refusing to Fight
by Ann Kramer (2013).
More info
Smokejumpers of the Civilian Public Service in WWII: Conscientious Objectors as Firefighters
by Robert C. Cottrell (2006).
More info
Online:
Conscientious Objection in Britain During the Second World War
at the Peace Pledge Union website.
Back to WWII Home Front, Europe
Back to Directory of Book Reviews