The Vespertine
by Saundra Mitchell
Reviewed by Margaret Donsbach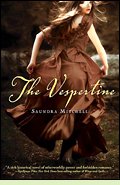 Set in the late nineteenth century, The Vespertine is about Amelia, an orphaned teen who lives with her brother and his wife in a small town in Maine. It's time for her to find a husband, so they send her to visit relatives in Baltimore who have a daughter her age, Zora. At a dinner party, Amelia soon meets a devastatingly unsuitable young man, an artist with a secret. He has been invited as a "Fourteenth," a guest paid to attend so every female guest will have a dinner partner.
In Baltimore, Amelia discovers that if she gazes into the sunset, she can see visions of the future. "As church bells tolled vespers, calling good Catholics to their evening prayers, I watched smoke rise in the goldening air. Sunset turned everything gilt. It made crimson edges of roofs and gables ... Startled, I squinted through the light again. I swore, in all the gold, I saw dancers." After her vision proves prophetic and Zora tells her friends, Amelia is suddenly in demand among a wealthier set than either she or Zora are used to. The experience is thrilling, and soon Amelia finds herself in over her head.
The language in The Vespertine is poetic but can also be convoluted and obscure, so it's not always crystal clear what is happening. Although historical details are stressed, the characters sometimes seem too modern. For example, by nineteenth-century standards, Zora's parents are irresponsible hosts who do little to effectively supervise Amelia or help her meet potential husbands. Many readers, though, will simply enjoy the story's spooky, romantic drama without worrying about its historical authenticity. (2011; 293 pages. Recommended for ages 12 and up.)
More about The Vespertine at Powell's Books or Amazon.com

Other YA historical novels about the supernatural:
Haunting Violet by Alyxandra Harvey (2011), a mystery about a fraudulent medium's daughter who begins seeing real ghosts, including a girl who wants her killer found and brought to justice. See review or more info at Powell's Books
A Great and Terrible Beauty by Libba Bray (2003), about a rebellious sixteen-year-old girl in Victorian England who encounters a supernatural mystery at the finishing school she is sent to after her mother dies; #1 in a trilogy. More info
Picture the Dead by Adele Griffin and Lisa Brown (2010), about a young woman trying to learn the truth about the death of her fiancé, a soldier in the Civil War, by consulting a spiritualist photographer and communicating with the spirit of her dead twin brother. More info

Nonfiction about the history of finding a husband:
Debutante: Rites and Regalia of American Debdom by Karal Ann Marling (2004), a history of "coming out" customs for upper class American girls. More info
Hands and Hearts: A History of Courtship in America by Ellen K. Rothman (1984). More info
Marriage, A History: From Obedience to Intimacy, or How Love Conquered Marriage by Stephanie Coontz (2006). More info

Online:
Some Gorgeous Worth Gowns, a picture gallery at Madame Guillotine's blog, showing lavishly expensive French ball gowns of the nineteenth century.



Back to Young Adult Novels: 19th Century America

Back to Directory of Book Reviews